Union Investment Acquires Radisson Blu In Amsterdam City Centre
Frankfurt-based Union Investment has purchased the Radisson Blu Hotel, Amsterdam in the Netherlands for an undisclosed sum. The 252-room hotel, which opened in 1990 in the city centre, comprises two historic buildings linked together by an underground passage. HVS advised Union Investment.
Gore and Pelham: New Stars In Italian Chain
Family owned Italian group Starhotels has purchased two boutique hotels in London's South Kensington area from private investors for approximately £43 million. The 50-room Gore Hotel and the 51-room Pelham Hotel are Starhotels' first hotels in the UK – the rest of the luxury group's portfolio comprises 22 hotels (3,690 rooms) in Italy, Paris and New York,
Meliá Sells Torremolinos Apartments
Meliá Hotels International has sold the Sol Aloha Puerto apartment complex in Spain to an unnamed buyer for €14.3 million (around €55,000 per unit). The 261 apartments are on Cariheula Beach in Torremolinos, on Spain's Costa del Sol.
RIU Buys Resort In Mauritius
Majorca-based RIU Hotels & Resorts has completed the purchase of a resort on the African island of Mauritius. The resort, on Le Morne Peninsula (a UNESCO World Heritage Site), includes three hotels. The properties are now closed for renovation and will reopen in February 2015 as the 219-room Riu Le Morne, the 167-room Riu Creole and the 144-room Riu Coral. The total investment in the resort amounts to €80 million.
Private Investor Acquires Heights Hotel In Killarney
The 74-room Aghadoe Heights Hotel and Spa in Killarney, southwestern Ireland, has been acquired by a private European investor for an undisclosed sum from Jerry and Anne O'Reilly. The five-star hotel overlooks the Lakes of Killarney.
Courtyard By Marriott On Its Way To Sarajevo
Marriott International has signed its second hotel for Bosnia and Herzegovina. The 130-room Courtyard by Marriott Sarajevo is scheduled to open in the middle of 2015 in Sarajevo city centre, joining the Residence Inn Sarajevo, which is due to open at the beginning of 2015. The Courtyard by Marriott Sarajevo will be operated under a franchise agreement with Lake d.o.o. and Interstate Hotels & Resorts.
Second Steigenberger For Amsterdam
Steigenberger Hotel Group has announced its second property for Amsterdam in the Netherlands. A four-star, 253-room hotel is currently under construction in the city's Zuidoost district. When it opens in June 2015, the hotel will be directly linked, via an adjoining restaurant terrace, to the Ziggo Dome concert arena. The hotel's site is owned by G&S Vastgoed.
Autumn Opening For Mondrian In London
Morgans Hotel Group's Mondrian brand is to make its debut outside of the USA on 30 September with the opening of the Mondrian London at Sea Containers. The 359-room hotel will be fourth Mondrian property to open overall (joining hotels in Los Angeles, New York and Miami) and Morgans' third hotel in the UK capital.
Raffles To Ruffle The Istanbul Market In September
Raffles Hotels is to make its first appearance in Turkey this autumn. The group will open the Raffles Istanbul on 1 September. The 181-room hotel, overlooking the Bosphorus on Istanbul's European side, will be part of the city's mixed-use US$300 million Zorlu Center development, which also includes a shopping centre, residences and a performing arts venue.
Sandman And Travelodge Expanding In Scotland
After purchasing the former base of Robert Gordon University in Aberdeen, northeast Scotland, Canadian chain Sandman Hotel Group plans to invest £20 million in the site to transform it into a 220-room hotel. The property would be the group's first hotel in Scotland and its third in the UK; Sandman currently operates one hotel in Newcastle and one property at Gatwick Airport in London. Other Scottish hospitality news this week includes the announcement by Travelodge that it has earmarked £75 million to develop ten new sites in the country. The group currently has 40 hotels across Scotland, including 11 in the capital, Edinburgh, but considers there to be room for growth.
CPI Takes On Mamaison Portfolio
Prague-based CPI Hotels is expanding its operations into Europe by taking on the management of ten Mamaison hotels across Poland, Hungary, Russia, Slovakia and Czech Republic. The group currently operates 18 hotels in the Czech Republic and the Mamaison additions will increase its bed capacity to almost 88,000.
Cadogan Hotel To Get A Makeover And A New Name
Formerly known as Orient Express Hotels, newly rebranded Belmond has signed a management agreement with Cadogan Estates Ltd for the Cadogan Hotel in Chelsea, London. The 127-year-old hotel, on Sloane Street, is due to close at the end of the month to undergo a US$48 million renovation, which will include reducing the guest room count from 64 to 54, and will reopen in summer 2016 as the Belmond Cadogan.
Mövenpick For Bank Muscat
Bank Muscat GCC Property Income Fund, which is managed by the asset management division of Bank Muscat, has bought the 294-room Mövenpick Hotel Jumeirah Beach in Dubai for an undisclosed sum. The five-star hotel, in the emirate's Jumeirah Beach Residences area, is the fund's first acquisition. "Dubai's hotel property markets are witnessing acceleration in growth and the fund is optimistic about generating a superb cash yield to its investors," commented the chief executive of Bank Muscat, Abdul Razak Ali Issa.
More Rotana For Bahrain
Rotana has signed an agreement with Ossis Property Developers for a new hotel in Bahrain. The 311-room ART Rotana is expected to open during the fourth quarter of 2014 on the man-made Amwaj Islands in northeast Bahrain, becoming the group's second property in the country alongside the 128-suite Majestic Arjaan by Rotana in Muharraq.
Third Pullman For Saudi Arabia
Accor Hotelservices Middle East has signed a management agreement with Munshaat for Projects & Contracting Co. for the 834-room Zamzam Pullman Madinah in the Saudi Arabian city of Medina. Construction is almost complete and the hotel is due to open this September. The five-star property is housed in two towers and will be Accor's third Pullman hotel in Saudi Arabia.
IHG Goes For Seconds In Abu Dhabi
InterContinental Hotels Group (IHG) has announced its second InterContinental and its second Holiday Inn for Abu Dhabi. The group signed a management agreement with the National Corporation of Tourism and Hotels for the 184-room InterContinental Abu Dhabi – Grand Marina, which is due to open in 2016. Additionally, a management agreement was signed with Pearl Azure Hotel Management for the Holiday Inn Abu Dhabi Downtown; this 257-room property will be a conversion of the Sands Hotel and will be reflagged by the end of the year after a refurbishment.
Ascott Grows Its Pipeline In Saudi Arabia
Singapore-based serviced residences group The Ascott Limited has signed management agreements with United Spectrums Holding for two new assets in Jeddah, Saudi Arabia, extending its presence in the country to five properties. The 51-unit Citadines Sari Jeddah is scheduled to open in 2015 and the 135-unit Somerset Corniche Jeddah will follow in 2016, as the first Somerset-branded residences in Saudi Arabia. Ascott currently has two other residences under development in Jeddah, both due to open next year, and the group plans to open a property in Riyadh by the end of 2014.
DoubleTree Doubles Up On Zanzibar
Hilton Worldwide has opened its second hotel on the island of Zanzibar and its third in Tanzania, in East Africa. The 58-room DoubleTree by Hilton Zanzibar – Stone Town is the first internationally branded hotel in Stone Town (a UNESCO World Heritage Site) and joins the 96-room DoubleTree Resort by Hilton Hotel Zanzibar-Nungwi.
Absolute Share Price Performance Over the Past Week – 3-10 July 2014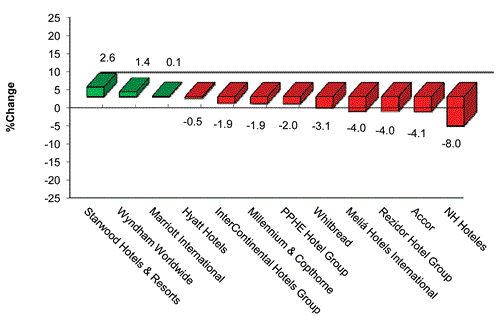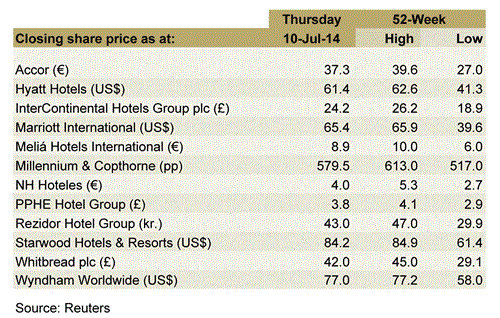 Starwood Hotels & Resorts – Analysts at MLV & Co upgraded to "buy" from "hold" and raised the share price target from US$86 to US$96.
Wyndham Worldwide – Stock analysts at Deutsche Bank reiterated a "hold" rating.
Meliá Hotels International – Cut to "equalweight" from "overweight" by Morgan Stanley.
---
For the latest in the hospitality industry, please visit: http://www.hvs.com. You are also welcome to contact the following personnel.
| | |
| --- | --- |
| Russell Kett, Chairman – HVS London (@russellkett) | rkett@hvs.com |
| Charles Human, CEO – HVS London/HVS Hodges Ward Elliott | chuman@hvshwe.com |
| Chris Martin, Director – HVS Hodges Ward Elliott | cmartin@hvshwe.com |
| Tim Smith, Director – HVS London | tsmith@hvs.com |
| Arlett Oehmichen, Director – HVS London | aoehmichen@hvs.com |
| Sophie Perret, Director – HVS London | sperret@hvs.com |
| Peter Malone, CEO – HVS Executive Search, EMEA & Asia | pmalone@hvs.com |
| Demetris Spanos, Managing Director – HVS Athens | dspanos@hvs.com |
| Hala Matar Choufany, Managing Director – HVS Dubai | hchoufany@hvs.com |
| Ezio Poinelli, Director – HVS Milan | epoinelli@hvs.com |
| Louise Fury, Senior Editor and EMEA Hospitality Newsletter Author – HVS London | lfury@hvs.com |