Fico Coporation Expands Into Europe With Latest Acquisition
Thailand-based conglomerate Fico Corporation has purchased a portfolio of nine hotels across Germany (931 rooms) and one in Belgium (176 rooms) for €80 million (€72,000 per room). "We are delighted to announce the latest strategic additions to Fico Group's expanding portfolio of assets beyond our home base," commented Fico's chief executive, Kit Srichawla. The group's new assets are the 70-room Days Inn Berlin West, the 94-room Days Inn Dresden, the 100-room ibis Hotel Erfurt Ost, the 104-room ibis Gelsenkirchen, the 141-room TRYP by Wyndham Bad Oldesloe, the 237-room TRYP by Wyndham Berlin City East, the 115-room TRYP by Wyndham Leipzig North, the 70-room TRYP by Wyndham Garden Bad Malente and the 176-room TRYP by Wyndham Antwerp. Fico also owns 16 hotels in Thailand and aims to expand further in Europe by acquiring 20 more hotels over the next couple of years.
Hallmark For Topland
Following its purchase of 12 Menzies hotels in December 2013, London-based privately owned investment firm Topland has added a further eight hotels (730 rooms) to its portfolio with the acquisition of Hallmark Hotels in an off-market transaction from Bridgepoint for £75 million (£102,700 per room). The four-star Hallmark portfolio comprises the 83-room Hallmark Hotel Bournemouth, the 70-room Hallmark Hotel Carlisle, the 110-room Hallmark Hotel Croydon, the 102-room Hallmark Hotel Derby, the 95-room Hallmark Hotel Gloucester, the 95-room Hallmark Hotel Hull, the 88-room Hallmark Hotel Manchester Airport and the 87-room Hallmark Inn Derby. The deal brings the number of hotels owned by Topland across the UK to 30.
Investment Conference Bringing Heatwave To London In September
The Hotel Investment Conference Europe (Hot.E) is returning to London on 17-18 September. This year's event is to be held at the Jumeirah Carlton Tower. Attracting industry leaders and experts, the conference will mainly focus on the capital markets (debt and equity) and where the investment opportunities in Europe are today. Charles Human, managing director of HVS Hodges Ward Elliott (which is sponsoring Hot.E) will be moderating a session on Wednesday 17 called A Focus on the Investors – Private Equity. Charles' panel includes Skardon Baker, partner at Apollo Management; Kevin Colket, senior vice president of acquisitions with Starwood Capital Group; Fabio Longo, executive vice president at Sankaty Advisors; and Ryan Prince, vice chairman with Realstar Group. Other members of the HVS family presenting sessions at Hot.E are HVS London's chairman, Russell Kett, and Chris Martin, a director with HVS Hodges Ward Elliott. For more information or to register, visit www.europehotelconference.com.
Mandarin Oriental And Choice Both Arrive In Turkey
Mandarin Oriental made its first appearance in Turkey this week with the opening of the Mandarin Oriental Bodrum, in the southwest of the country on the Aegean Sea. The 109-room resort has been developed on a 60-hectare waterfront site. The group's second Turkish property is already in the pipeline and due to open in Istanbul in 2016. Choice Hotels International has also opened its first property in Turkey. The group signed a franchise agreement with owner-operator Aktas Turizm Insaat A.S for the 135-room Clarion Hotel & Suites Sisli, in Istanbul's main business district. "Turkey is an emerging economy with an extremely attractive hotel market and Istanbul has become a thriving destination for business and leisure travellers," commented Choice's senior vice president of its international division, Mark Pearce.
Kew Green Grows By Seven More Hotels During Second Quarter 2014
Hotel operator Kew Green Management took on the management of seven new hotels during the second quarter of 2014, bringing its portfolio of hotels across the UK to 37, 35 of which are operated under the Holiday Inn, Holiday Inn Express, Crowne Plaza, Days Hotel, Ramada and Courtyard by Marriott brands. The group's newest properties include the 201-room Grand, Brighton, the 95-room Holiday Inn Cardiff North M4, Jct.32 (due to open in a couple of weeks – see below), the 185-room Holiday Inn London – Shepperton and four Ramada Encore hotels (in Barnsley, Birmingham, Crewe and Haydock). "We are delighted to have added these hotels to our portfolio and look forward to seeing them continue to develop under our management. These additions are part of our continued strategy to grow our management division, alongside our owned estate, with a target to reach a portfolio of in excess of 60 hotels," said Kew's chief executive officer, Paul Johnson.
IHG Signs Four New Holiday Inns For The UK
InterContinental Hotels Group has signed agreements for four new Holiday Inn hotels in the UK. An existing 95-room hotel, three miles from the centre of Cardiff in Wales, is to be rebranded as the Holiday Inn Cardiff – North M4 Jct. 32 and will be operated by Kew Green Management. The 225-room Holiday Inn London – West is due to open in August under a franchise agreement with Mango Hotels. Also in the UK capital, the 119-room Holiday Inn London – Heathrow T5 is expected to open later this summer. This 119-room conversion property will operate under a franchise agreement with Arora Hotels Ltd. Lastly, the Holiday Inn Birmingham North – Cannock is to open at the beginning of next year. Also a conversion from an existing hotel, the 95-room Birmingham property will operate under a franchise agreement with Nine Hospitality Ltd.
New Faces At Vienna International And Whitbread
Austrian hotel operator Vienna International has announced that Rupert Simoner is to become its new chief executive officer on 1 September 2014. Mr Simoner has worked at Kempinski since 1995, and most recently held the role of senior vice president of Kempinski Europe. UK-based group Whitbread has announced the appointment of Richard Baker as chairman, also starting 1 September 2014. Mr Baker takes over from Anthony Habgood, who has held the post for the last nine years. Mr Baker is currently the chairman of Virgin Active Group and he has been an independent non-executive director on Whitbread's Board since 2009.
Every – New Brand For Glh
After announcing its new luxury Clermont brand and the four-star Amba chain in October last year, glh has released details of its second four-star brand, every. The group commented that the new brand will focus "on a four-star bedroom product aimed at maximizing the yield to owners of new-build hotels and properties ripe for conversion". Glh's chief executive, Mike DeNoma, said, "The four-star full-feature hotel product is a dinosaur for many cities around the world. We estimate that half of all four-star hotels outside gateway cities have too many restaurants and barely used meeting facilities. The four-star sector continues to bury its long neck in the sand, in the face of changing customer needs. Every is our direct response to owners and developers burdened with legacy buildings who are keen for a new four-star option that responds to the changing market." The brand's first property, the every Piccadilly, is due to open in London in November.
Best Western Number Three For Dar Es Salaam
Best Western International has opened its third hotel in Dar Es Salaam in Tanzania, East Africa. The newly built, four-star Best Western Plus Peninsula has 45 guest rooms and is within two kilometres of the Indian Ocean and seven kilometres from the city centre. "With international arrivals continuing to grow each year, thanks to contributions from the Tanzania Tourist Board and an increase in the number of airlines servicing Dar Es Salaam, Tanzania is one of Africa's new tiger economies, commented Suzi Yoder, Best Western's senior vice president of international operations.
Kempinski Puts Down Roots In Rwanda
Kempinski recently made its first appearance in Rwanda. At the beginning of July, the group officially took over the management of the Hôtel Des Mille Collines in the capital Kigali. The hotel, which opened in 1973, was used as a place of refuge during the Rwandan genocide in 1994, which was later documented in the film, Hotel Rwanda. The 112-room hotel is now operating as the Hôtel Des Mille Collines by Kempinski. Kempinski has a further three hotels due to open across Africa over the next six months, bringing its portfolio on the continent up to nine.
Good First-Half Growth In Revenue For Accor
Accor has reported good growth in overall revenue for the first half of 2014 with a like-for-like increase of 2.8% to €2,593 million. The group's owner and investment arm, HotelInvest, grew like-for-like revenue by 1.6% to €2,286 million and HotelServices, Accor's operating and franchise unit, achieved a like-for-like increase in revenue of 5.7% to €582 million, with strong growth recorded in the Mediterranean, Middle East and Africa region, of 10.1%. Accor opened 12,284 new rooms (92 hotels) during the first six months of the year, 90% of which are under management and franchise agreements. "Accor saw good momentum in the first half despite a French market that continued to be unfavourably impacted by changes in tax legislation," said Sébastien Bazin, Accor's chairman and chief executive officer.
Absolute Share Price Performance Over the Past Week – 10-17 July 2014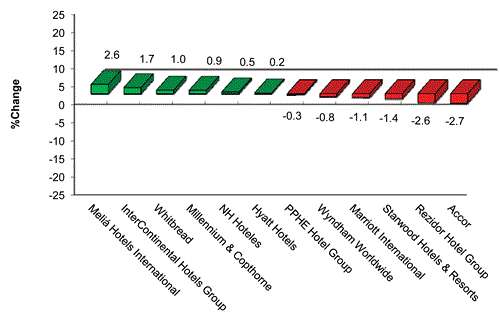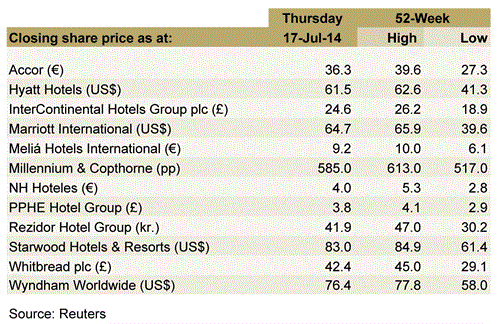 Meliá Hotels International – Rose 1.9% on high volatility.
NH Hoteles – Rose 0.6% from a 14-day low.
Wyndham Worldwide – Deutsche Bank reiterated its "hold" rating.
---
For the latest in the hospitality industry, please visit: http://www.hvs.com. You are also welcome to contact the following personnel.
| | |
| --- | --- |
| Russell Kett, Chairman – HVS London (@russellkett) | rkett@hvs.com |
| Charles Human, CEO – HVS London/HVS Hodges Ward Elliott | chuman@hvshwe.com |
| Chris Martin, Director – HVS Hodges Ward Elliott | cmartin@hvshwe.com |
| Tim Smith, Director – HVS London | tsmith@hvs.com |
| Arlett Oehmichen, Director – HVS London | aoehmichen@hvs.com |
| Sophie Perret, Director – HVS London | sperret@hvs.com |
| Peter Malone, CEO – HVS Executive Search, EMEA & Asia | pmalone@hvs.com |
| Demetris Spanos, Managing Director – HVS Athens | dspanos@hvs.com |
| Hala Matar Choufany, Managing Director – HVS Dubai | hchoufany@hvs.com |
| Ezio Poinelli, Director – HVS Milan | epoinelli@hvs.com |
| Louise Fury, Senior Editor and EMEA Hospitality Newsletter Author – HVS London | lfury@hvs.com |