Conrad Coming Back To London…
Hilton Worldwide has signed a franchise agreement with Supreme Hotels that will see its luxury Conrad brand make its return to London. The 256-room InterContinental London Westminster is to be rebranded this September as the Conrad London Westminster, becoming the fourth Conrad-branded property in Europe alongside the Conrad Dublin (Ireland), the Conrad Algarve (Portugal) and the Conrad Istanbul (Turkey).
…And DoubleTree To Make Its Debut In Minsk
Hilton has also signed an agreement with Galleria Concept JLLC for its first hotel in Belarus. The 194-room DoubleTree by Hilton Minsk is due to open in the Belarusian capital in mid-2015. The hotel will occupy 14 floors of the 21-storey mixed-use development, Galleria Minsk, which will also include 160 retail outlets and an entertainment centre. "Minsk is a destination which has been gathering pace for some time," said Patrick Fitzgibbon, Hilton's senior vice president of development for Europe and Africa. "This city has proven its capability to stage major international events with the success of this year's Ice Hockey World Championships; we foresee demand for upscale accommodation continuing to rise," he added.
John Malone And Lalco Acquire Third Hotel In Dublin
American billionaire businessman, John Malone, in partnership with Dublin-based Lalco Hotel Group, has purchased the five-star Westin hotel in Dublin city centre, Ireland, for €65 million (398,700 per room). The 163-room hotel is the duo's third acquisition in Ireland's capital: they previously teamed up to buy the Trinity City Hotel Dublin in August 2013, for €35 million, and the Hilton Dublin, for €30 million, in January this year. It is reported that Lalco will now take over the operation of the hotel, under a franchise agreement with Starwood's Westin Hotels & Resorts chain.
New Owner For Best Western ApartHotel in Munich
The Best Western ApartHotel München in Munich, southern Germany, has been acquired by Piettal GmbH for €19 million (€102,200 per room) from a Treucon Group fund. The 186-room hotel opened in 1995 and comprises 6,000 m² of usable space.
A Trio Of New Holiday Inn Express Hotels To Join IHG's UK Portfolio
InterContinental Hotels Group has announced the addition of three more Holiday Inn Express hotels across England, continuing the brand's expansion across the UK. The 132-room Holiday Inn Express London – Vauxhall Nine Elms is to open later this year under a franchise agreement with Heathdeal Ltd. The hotel will be part of the redevelopment of the Vauxhall/Battersea area of London, one of the largest regeneration projects currently taking place in the city. The newly built 135-room Holiday Inn Express Leigh – Sports Village will open later this summer as the only hotel at Leigh Sports Village, a multiuse sports stadium near to both Liverpool and Manchester in northwest England. The hotel will operate under a franchise agreement with KS Hotels Ltd. The 87-room Holiday Inn Express Wigan is due to open in 2015 under a franchise agreement with Viking Bear Ltd. The hotel will be close to Wigan town centre and the DW Stadium.
High Five For Rezidor In Saudi Arabia
Carlson Rezidor Hotel Group has signed agreements for five new properties in Saudi Arabia, bringing its portfolio in the kingdom to 22 hotels (around 4,000 rooms) in operation or under development. The new additions to the pipeline are the conversion of the Red Sea Palace Hotel into the 261-room Radisson Blu Red Sea Palace Hotel, Jeddah, which is scheduled to be completed by the third quarter of 2014; the 184-room Park Inn by Radisson Hotel Riyadh Nasiriyah, which is due to be rebranded at the end of 2014 following the conversion of an existing property; the 90-room Park Inn by Radisson Hotel Damman, also a conversion project and expected to open in the first quarter of 2015; the 120-unit Radisson Blu Plaza Residence, Jeddah Salihiyah, which is slated to open during the first half of 2015 in a recently built apartment building; and the new-build Radisson Blu Hotel & Residence, Jeddah Corniche, which is expected to open in the first quarter of 2017 with 100 guest rooms and 60 serviced apartments. "Saudi Arabia is a key focus country for our group and offers considerable growth potential," commented Wolfgang Neumann, Rezidor's president and chief executive officer.
A Swiss-Belhotel For Bahrain
Hong Kong-based Swiss-Belhotel International is making its first appearance in Bahrain this week with the opening of the 149-room Swiss-Belhotel Seef Bahrain, which is housed in a 28-storey tower, owned by Miami Property Company, at the centre of Manama's new business district. The hotel is the group's fourth in the Middle East, alongside properties in Kuwait, Qatar and the UAE.
Cristal's Budget Brand A New Jewel For Hospitality Industry
Cristal Hotels and Resorts is currently working on the launch of its new budget brand, Emerald. The UAE-based group currently has five hotels across the Middle East and one in the archipelago of Comoros in operation under its four- and five-star brands. The first Emerald property is due to open in Erbil, Iraq, at the end of the year. Cristal's president and chief executive officer, Peter Blackburn, commented that in line with the group's expansion strategy for its existing brands, the aim is to open an Emerald hotel in every primary and secondary city across the Middle East, Africa and Turkey.
Starwood Expanding In Nigeria
Starwood Hotels & Resorts has five properties in its development pipeline for Nigeria due to open by the end of 2017: the recently signed 146-room Four Points by Sheraton Ikot Ekpene (March 2015), the Four Points by Sheraton Benin City (1 June 2016), the Four Points by Sheraton Ibadan (1 January 2016), the Four Points by Sheraton Ikeja (December 2016) and Le Méridien Grand Towers Ikoyi, Lagos. Starwood's expansion in Nigeria, in collaboration with its strategic partners in the country which are funding the projects, reportedly represents an investment of US$500 million.
Wyndham Announces Its Second-Quarter Results
Wyndham Worldwide achieved revenue of US$1.3 billion for the second quarter of 2014, an increase of 7.0% on the same period in 2013. Adjusted net income reached US$150 million compared to US$133 in 2013. The group's hotel business, Wyndham Hotel Group (WHG), saw an 8.0% increase in second-quarter revenue to US$283 million, owing predominantly to high RevPAR results; although international RevPAR fell by 1.8%, domestic RevPAR rose by 8.8%, leading to an overall system-wide increase of 5.6%. WHG's adjusted EBITDA for the quarter was US$87 million, a 12.0% increase on 2013.
Starwood Reports A Second-Quarter Rise In Net Income
Starwood Hotels & Resorts has reported an adjusted EBITDA of US$324 million for the second quarter of 2014. Net income amounted to US$153 million (US$0.80 per share), almost a 12.0% rise on the US$137 million (US$0.71 per share) reported for the same period in 2013. Management fees, franchise fees and other income increased by 10.2% on 2013. During the second quarter the group opened 19 hotels and resorts (around 3,800 rooms) and signed 45 management and franchise agreements. "As we look ahead to the balance of the year, we expect that global trend lines will fuel demand for high-end travel. In our view, rising wealth, urbanization, digital connectivity and expansion of global businesses will drive demand for our brands," said Frits van Paasschen, Starwood's chief executive officer.
Absolute Share Price Performance Over the Past Week – 17-24 July 2014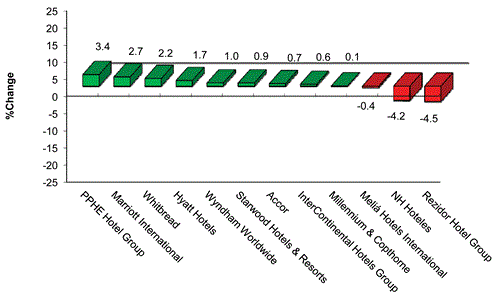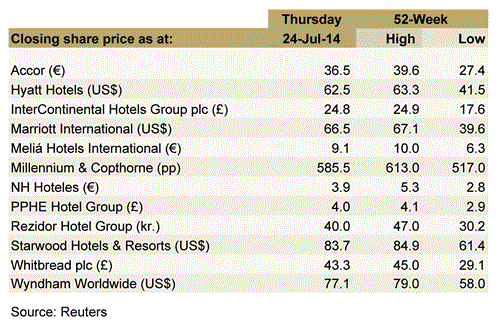 Whitbread – Rose 0.4% for a third consecutive day on Thursday, bringing its three-day rise to 1.3%.
Starwood Hotels & Resorts – Wells Fargo downgraded to "market perform" from "outperform".
Accor – Rose 1.6% from a 14-day low.
---
For the latest in the hospitality industry, please visit: http://www.hvs.com. You are also welcome to contact the following personnel.
| | |
| --- | --- |
| Russell Kett, Chairman – HVS London (@russellkett) | rkett@hvs.com |
| Charles Human, CEO – HVS London/HVS Hodges Ward Elliott | chuman@hvshwe.com |
| Chris Martin, Director – HVS Hodges Ward Elliott | cmartin@hvshwe.com |
| Tim Smith, Director – HVS London | tsmith@hvs.com |
| Arlett Oehmichen, Director – HVS London | aoehmichen@hvs.com |
| Sophie Perret, Director – HVS London | sperret@hvs.com |
| Peter Malone, CEO – HVS Executive Search, EMEA & Asia | pmalone@hvs.com |
| Demetris Spanos, Managing Director – HVS Athens | dspanos@hvs.com |
| Hala Matar Choufany, Managing Director – HVS Dubai | hchoufany@hvs.com |
| Ezio Poinelli, Director – HVS Milan | epoinelli@hvs.com |
| Louise Fury, Senior Editor and EMEA Hospitality Newsletter Author – HVS London | lfury@hvs.com |