Constellation To Pick Up A New Star In Paris
After purchasing the InterContinental London Park Lane in March 2013, Constellation Hotels Holding has now produced a binding offer to acquire the InterContinental Paris – Le Grand from InterContinental Hotels Group (IHG) for €330 million (roughly €702,000 per room) in cash on completion. IHG has said that it has agreed to a period of exclusivity with Constellation and the terms of the deal would see the IHG retain a 30-year management contract on the 470-room hotel, with rights to three ten-year extensions. The hotel, overlooking the city's famous Opera House, first opened in 1862 and has operated as an InterContinental property since 1982. Constellation is to invest a further €60 million on renovating the hotel.
First-Half Gross Revenue Increase Of 7% For IHG
InterContinental Hotels Group (IHG) has reported total gross revenue from hotels in its system of US$11.1 billion for the first half of 2014, an increase of 7% on the same period last year. Operating profit fell 8% on a reported basis, but rose 6% on an underlying basis. Global RevPAR grew by 5.8% and the group opened 109 hotels over the first half of the year (17,000 rooms). "We have had the best half for signings in six years, underpinning our future growth prospects and demonstrating owners' preference for our brands," commented Richard Solomons, IHG's chief executive. Meanwhile, IHG has been hitting the headlines following the announcement that one of its shareholder groups is agitating for a greater M&A presence. HVS London's chairman, Russell Kett, contributed to this debate with a quote in today's Times newspaper.
Marathon To Buy UK Portfolio
New York-based investment firm Marathon Asset Management has reportedly signed a deal to acquire 11 former Queens Moat House hotels in the UK for £135 million (£67,500 per room) from Goldman Sachs. Ten of the 11 hotels (which combined have around 2,000 rooms) are run under InterContinental Hotels Group's Crowne Plaza and Holiday Inn brands under franchise agreements.
Starwood Capital Buys Second Hotel In Edinburgh
US-based Starwood Capital Group recently acquired, through a controlled affiliate, the Crowne Plaza Edinburgh – The Roxburghe, in Scotland's capital, from a private UK-based investor in a deal reported to be worth more than £40 million (£201,000 per room), the largest single asset hotel transaction in the city since 2007. The 199-room hotel, which comprises several townhouses dating from 1791 and modern extensions, joined InterContinental Hotels Group's Crowne Plaza brand via a franchise agreement in 2013, following a major renovation. Starwood Capital now owns two hotels in Edinburgh. "Our intimate knowledge of the market through our ownership of The George helped us recognize the value of an iconic property in the second-most-popular tourist destination in the United Kingdom after London," said Cody Bradshaw, senior vice president at Starwood Capital. "We plan to continue making strategic investments in the UK hotel sector as opportunities arise," he added.
Vienna Acquires Arcadia Hotel In Trier
Vienna International Hotelmanagement AG's German subsidiary, VI Asset GmbH, has purchased the 105-room Arcadia Hotel Trier for an undisclosed sum. The four-star hotel, in the city of Trier, western Germany, has become Vienna International's 13th hotel in the country, the tenth Arcadia hotel to be managed by the Austrian group.
From Sea To Mountain: Rezidor's Newest Signings In Poland
Carlson Rezidor Hotel Group has signed agreements for two new hotels in Poland, bringing its portfolio in the country to ten hotels (almost 2,400 rooms) in operation or under development. Both properties are due to open in the fourth quarter of 2014. The 340-room Radisson Blu Resort, Swinoujscie will have its own seafront promenade in the Baltic port of Swinoujscie in northwest Poland. The Radisson Blu Hotel & Residences Zakopane will be developed in the Carpathian mountain resort of Zakopane, 100 km from Krakow, with 158 guest rooms and 68 apartments.
Starwood Announces The First St. Regis For Kazakhstan…
Starwood Hotels & Resorts has announced its first St. Regis property for Kazakhstan. The 120-room St. Regis Astana and the adjacent 50-unit Residences at The St. Regis Astana are being developed by MG Development. Both properties are due to open in 2017 in Astana Central Park at the heart of Kazakhstan's capital. Starwood has one other hotel under development in Kazakhstan: the 177-room Sheraton Aktobe Hotel, which will mark the group's debut in the country when it opens in July 2016.
…As Marriott Opens Number Five
Marriott International has opened its fifth hotel in Kazakhstan: the five-star, 271-room Astana Marriott Hotel in Astana city centre, which is managed by an affiliate of US-based company Interstate Hotels & Resorts. The hotel is the second Marriott-branded property in the country, alongside two Renaissance hotels and a Ritz-Carlton.
Regent Hotels & Resorts Heads Portside
Asian group Regent Hotels & Resorts has opened its second hotel in Europe, and its eighth worldwide. The Regent Porto Montenegro is the first hotel to open at the 250-berth Porto Montenegro super-yacht marina in the Bay of Kotor, a UNESCO World Heritage Site in the town of Tivat, southwestern Montenegro. The five-storey hotel has 51 guest rooms and 35 suites and residences.
Park Inn Opens At Pulkovo
Carlson Rezidor Hotel Group has opened the Park Inn by Radisson Pulkovo Airport in St Petersburg, Russia, its sixth hotel in the city. The 200-room hotel, 18 km from the city centre, is linked directly to the airport's newly built Terminal 1 via an enclosed walkway.
A New Novotel For Madrid
Accor has signed an agreement for a new Novotel in the Spanish capital, Madrid. The four-star, 790-room Hotel Convenciòn, in the city centre, is to undergo a complete redesign and refurbishment and will reopen under a franchise agreement in 2016 as the Novotel Convenciòn Madrid. Accor currently operates three Novotel properties in Madrid.
Marriott Marquis Makes Its Middle Eastern Debut
Marriott International has opened its first Marriott Marquis outside of the USA in Doha, Qatar. Three existing Marriott hotels in Doha (the Renaissance, Courtyard by Marriott and Marriott Executive Apartments) have been combined to create the 580-room Marriott Marquis City Center Doha Hotel. The Marquis flag is a brand extension of the Marriott Hotels and JW Marriott Hotels chains.
Ibis Bringing Some Style To Dubai's Business Bay Canal
Accor Hotel Services Middle East has signed a management agreement with India-based real estate firm Hiranandani Group for an ibis Styles hotel in Dubai. The 350-room hotel is expected to open mid-2016 alongside the Business Bay Canal. Accor currently has seven ibis-branded hotels in operation in Dubai and 14 across the Middle East overall.
Kempinski Makes Its First Appearance In DRC
After signing an 11-year management agreement for the Fleuve Congo Hotel in January this year, Kempinski has now officially taken on the operation of the 237-room hotel in Kinshasa, Democratic Republic of the Congo. The 22-storey hotel, on the Congo River, has been renamed the Kempinski Hotel Fleuve Congo and is the group's first hotel in the country.
Meliá Reports Good Growth In RevPAR
Meliá Hotels International achieved a net profit of €6.3 million for the first half of 2014, a fall of 39% on the same period last year owing to lower capital gains from real estate deals. Companywide RevPAR and EBITDA grew by 11% and 35%, respectively. The EMEA region recorded a 3.8% improvement in RevPAR, with Germany (+4.3%), the UK (+7.4%) and France (+8.7%) all showing good growth. Meliá's hotels in Greece reported a robust increase of 34% in RevPAR. The group also managed to reduce its debt in the second quarter of 2014 by €80 million, to €1,162 million.
Absolute Share Price Performance Over the Past Week – 31 July-7 August 2014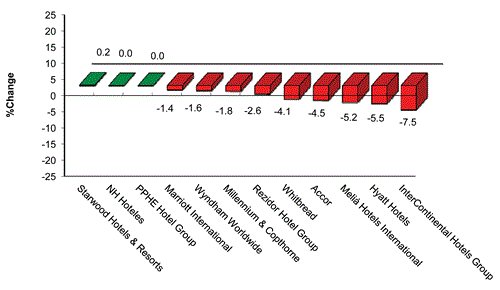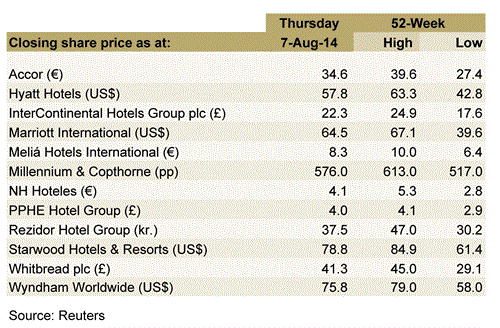 InterContinental Hotels Group – Numis downgraded its recommendation to "hold" from "buy".
NH Hoteles – Rose 1.8% from a 14-day low.
Accor – Raised to "neutral" from "underperform" by Credit Suisse.
---
For the latest in the hospitality industry, please visit: http://www.hvs.com. You are also welcome to contact the following personnel.
| | |
| --- | --- |
| Russell Kett, Chairman – HVS London (@russellkett) | rkett@hvs.com |
| Charles Human, CEO – HVS London/HVS Hodges Ward Elliott | chuman@hvshwe.com |
| Chris Martin, Director – HVS Hodges Ward Elliott | cmartin@hvshwe.com |
| Tim Smith, Director – HVS London | tsmith@hvs.com |
| Arlett Oehmichen, Director – HVS London | aoehmichen@hvs.com |
| Sophie Perret, Director – HVS London | sperret@hvs.com |
| Peter Malone, CEO – HVS Executive Search, EMEA & Asia | pmalone@hvs.com |
| Demetris Spanos, Managing Director – HVS Athens | dspanos@hvs.com |
| Hala Matar Choufany, Managing Director – HVS Dubai | hchoufany@hvs.com |
| Ezio Poinelli, Director – HVS Milan | epoinelli@hvs.com |
| Louise Fury, Senior Editor and EMEA Hospitality Newsletter Author – HVS London | lfury@hvs.com |