HVS, today, released the results of its extensive Hotel Management Contract Survey that collates and compares the key terms and clauses of management contracts across the United States of America, Europe and the Asia Pacific region.
Commenting on the occasion of the international release of the survey report, Steve Rushmore, Founder of HVS says, "It has always been our endeavour to provide superior market intelligence to our clients and the industry as a whole, and the hotel management contract survey is yet another step in that direction. We believe that it will enable hotel owners across the globe to understand management contracts better, in addition to being a credible reference document that presents and distinguishes the key terms and clauses of management contracts across three major regions of the world."
Offering a truly global perspective on the structure of management contracts, the survey sample set comprises 236 contracts representing 57,055 hotel rooms, and 38 branded hotel companies (in addition to a few independent operators and several third-party management companies). The full 35-page report (approx.) offers an insight into six principal sections of a management contract, which are recognised to be critical areas for owner-operator negotiations.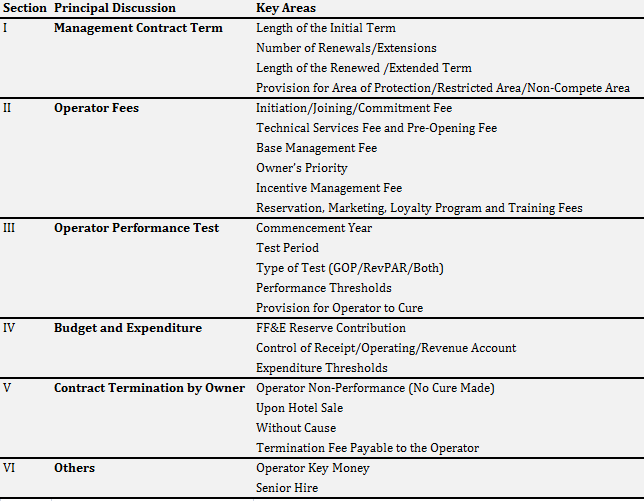 Manav Thadani, Chairman – Asia Pacific, HVS and the co-author of this pioneering survey report says, "The hotel management contract survey is a global research initiative by HVS. While it has been authored by the New Delhi office of the firm, it would not have been possible without the collaboration of various other HVS offices across the world." He adds, "Having been involved in several hotel management contract negotiations myself, I sincerely believe that both owners and operators will find the survey report very useful and interesting. While it validates some of our pre-conceived notions on key management contact terms and clauses, the survey dismisses a few others throwing up some very remarkable findings. Overall, the survey showcases HVS' unique global repository of data and research abilities."
To download excerpts of the HVS Hotel Management Contract Survey Report, please click here.
Visit the HVS Bookstore to purchase the full HVS Hotel Management Contract Survey Report (available both in PDF and in Print) for US$2,000.
For ordering instructions and any other details about the survey, please contact:
Juie S. Mobar
Associate Director – Special Projects
HVS
Email: jmobar@hvs.com
Media Contact:
Mansi Bhatnagar
Managing Director Marketing Communications
HVS
Email: marketing@hvs.com