Featured in this HVS EMEA Hospitality Newsletter – Week Ending 15 August 2014
The Wait Is Over For The Peninsula Paris
The Peninsula Paris officially opened this week in the French capital, after a four-year £340 million renovation. Work on the luxury hotel included painting the walls with 40,000 pieces of gold leaf, installing chandeliers designed specifically for the hotel and creating three levels beneath the property to house a spa, a 20-metre swimming pool and a parking area. Close to the Arc de Triomphe, the 200-room hotel is housed in a late 19th-century classic Haussmanian building which first became a hotel 1908.
New Owner For Liverpool Novotel
Belgian investor and hotel operator Algonquin has purchased the 209-room Novotel Liverpool Centre in northwest England from administrators acting on behalf of Ireland's National Asset Management Agency (NAMA) for £13.15 million (£62,900 per room), almost £1 million above the guide price of £12.3 million. The former owners of the hotel, Pedersen Group, fell into administration in autumn last year. The hotel, which is adjacent to the city's Liverpool One, retail and entertainment centre, is leased to Accor until 2024.
Brehon To Buy Citywest
It was reported this week that an agreement has been reached to sell the Citywest hotel and conference centre complex in Dublin, Ireland, as a going concern to real estate private equity firm Brehon Capital Partners for around €29 million (€36,700 per room). The 789-room hotel and the adjacent conference facility is being sold by receivers on behalf of Bank of Scotland (Ireland). The deal, which is expected to close in 30 days, represents Brehon's fourth hotel investment in the country, as, in partnership with businessman Emmet O'Neil, it recently acquired the 86-room Mount Juliet Resort in southeast Ireland from Killeen Group Holdings for €15 million (€174,400 per room) and also owns the 187-room Marker Hotel in Dublin and the 200-room Powerscourt Hotel in County Wicklow.
Comer Group Takes On Kilternan Development
Also in Ireland, London-based Comer Group has reportedly paid €7 million for the partially completed Kilternan Hotel & Country Club in south Dublin. It is thought that an additional €20 million will need to be invested to complete the project.
Two Transactions In Germany
The four-star Steigenberger Hotel Deidesheim, in the eponymous west German town, has been sold to a group of Chinese investors for an undisclosed sum. The 123-room hotel, which also has a spa and meeting facilities, is on the German Wine Route. In southern Germany, in the city of Freiburg im Breisgau, near the French border, a private investor has acquired the 102-room B&B Hotel Freiburg-Süd from B&B Hotels in a sale-and-leaseback transaction; again, the sale price was not disclosed.
A New H10 For Barcelona
Spanish chain H10 Hotels has expanded its portfolio in Barcelona with a new hotel in the Catalan capital. H10 purchased a historic building on Rambla de Catalunya in 2013 for €20 million and transformed it into the four-star H10 Metropolitan, which opened this week with 85 guest rooms, bringing the number of H10 hotels in the city to 11. The group has more than 40 hotels in 16 destinations across Europe and the Americas.
Taj Group Announces New Chief Executive Officer
Taj Group of Hotels has announced that after 11 years at the helm Raymond Bickson will be stepping down as managing director and chief executive officer of the group as of 31 August 2014. "We're grateful to Mr Bickson for his many years of leadership at Taj Group," said Cyrus Misty, the group's chairman. "His three decades of hospitality expertise have helped to make the Taj Group and its brands some of the most respected names in the international hotel and resort industry," he added. Rakesh Sarna is to take over the position of managing director and chief executive officer on 1 September 2014. Mr Sarna has spent the previous 30 years in various leadership roles with Hyatt Hotels Corporation.
Action And Accor To Open A Novotel In Kuwait
Accor has signed an agreement with Dubai-based Action Hotels that will see the group open its first Novotel property in Kuwait. Construction on the 160-room, four-star hotel is scheduled to start during the first half of 2015 and is expected to be completed in 2017. The project is expected to cost US$29 million, on top of the US$12.3 million that Action paid for the site, a total of US$258,100 per room.
Absolute Share Price Performance Over the Past Week – 7-14 August 2014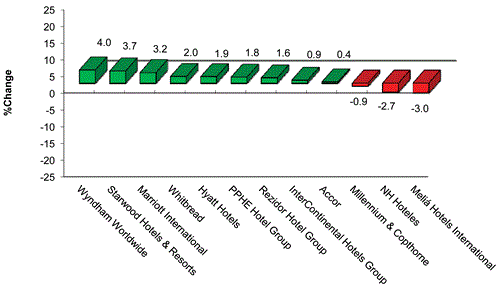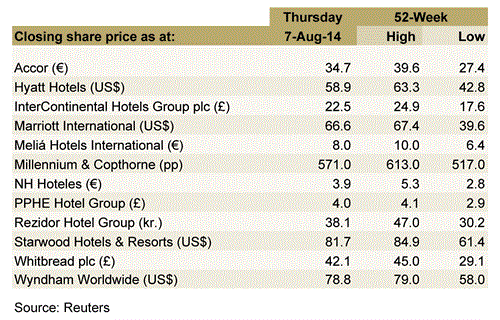 Whitbread – Increased 1.6% after hitting the lower Bollinger Band three times in the last ten days.
Hyatt Hotels – Analysts at Stifel Nicolaus upgraded to "buy" from "hold".
NH Hoteles – Share prices fell for a second consecutive day.
---
For the latest in the hospitality industry, please visit: http://www.hvs.com. You are also welcome to contact the following personnel.
| | |
| --- | --- |
| Russell Kett, Chairman – HVS London (@russellkett) | rkett@hvs.com |
| Charles Human, CEO – HVS London/HVS Hodges Ward Elliott | chuman@hvshwe.com |
| Chris Martin, Director – HVS Hodges Ward Elliott | cmartin@hvshwe.com |
| Tim Smith, Director – HVS London | tsmith@hvs.com |
| Arlett Oehmichen, Director – HVS London | aoehmichen@hvs.com |
| Sophie Perret, Director – HVS London | sperret@hvs.com |
| Peter Malone, CEO – HVS Executive Search, EMEA & Asia | pmalone@hvs.com |
| Demetris Spanos, Managing Director – HVS Athens | dspanos@hvs.com |
| Hala Matar Choufany, Managing Director – HVS Dubai | hchoufany@hvs.com |
| Ezio Poinelli, Director – HVS Milan | epoinelli@hvs.com |
| Louise Fury, Senior Editor and EMEA Hospitality Newsletter Author – HVS London | lfury@hvs.com |