144 UK Travelodges Change Hands
A consortium comprising Goldman Sachs, Avenue Capital and GoldenTree Asset Management has bought a portfolio of 144 properties across the UK leased to budget group Travelodge for around £520 million, in an initial all cash purchase. The hotels were sold by Prestbury Investment Holdings, West Coast Capital, Aldersgate Investments, and Lloyds Bank. The new owners each have a one-third stake in the hotels, and the trio are also the current owners of the Travelodge group after acquiring it two years ago via a debt-for-equity restructuring deal. HVS advised Goldman Sachs and GoldenTree Asset Management.
Far East Orchard Ventures Into Europe
Other portfolio deals in the news this week include Far East Orchard's acquisition of a 50% stake in a group of hotels across Germany and Denmark. The deal is part of the Singapore firm's joint venture with Australian-based Toga Group, formed in May last year, and is thought to be worth €107 million.
The HVS Hotel Management Contract Survey Now Available
HVS has released the results of its Hotel Management Contract Survey. The survey collates and compares the key terms and clauses of management contracts across the USA, Europe and the Asia Pacific region and offers a truly global perspective on the structure of management contracts. The survey sample set comprises 236 contracts representing 57,055 hotel rooms, and 38 branded hotel companies (in addition to a few independent operators and several third-party management companies). The full 35-page report (approx.) offers an insight into six principal sections of a management contract, which are recognised to be critical areas for owner-operator negotiations. Commenting on the report, HVS's founder, Steve Rushmore, said, "We believe that it will enable hotel owners across the globe to understand management contracts better, in addition to being a credible reference document that presents and distinguishes the key terms and clauses of management contracts across three major regions of the world." To download excerpts of the report, please click here. Visit the HVS Bookstore to purchase the full HVS Hotel Management Contract Survey Report (available both in PDF and in Print) for US$2,000.
A New Owner For The JW Marriott In Bucharest
Bank of Cyprus is selling Romanian-based firm Societetea Companililor Hoteliere Grand, which is the owing company of the JW Marriott Bucharest Grand Hotel. The new owner of the eight-storey, 401-room hotel in the Romanian capital will be Austrias STRABAG SE when the deal closes this autumn for €95 million (€236,900 per room).
Private Investor Picks Up The Hilton Frankfurt
UK-based private property company London & Regional has sold the 342-room Hilton Frankfurt, in central Germany, to an unnamed investor that reportedly specialises in the luxury hospitality industry for €100 million (€292,400 per room). The lease with Hilton Worldwide on the 12-storey property, which was constructed in 1998 next to the Frankfurt Stock Exchange, is to remain in place. HSH Nordbank provided more than €50 million in debt finance for the deal.
Kennedy Wilson Goes For Golf in Scotland
Kennedy Wilson Europe Real Estate is to purchase the Fairmont St Andrews Resort on Scotland's east coast from SABD Holding for £32.4 million (£155,000 per room) in cash. The 209-room resort, which reportedly comes with planning permission for the addition of 71 holiday homes and eight manor homes, is operated by Fairmont Hotels & Resorts under a management agreement that runs until 2031. This is the second hotel deal carried out by Kennedy Wilson Europe (which was established in 2011 when US-based Kennedy Wilson acquired Bank of Ireland Real Estate Investment Management); in June 2014, the group acquired the 138-room Portmarnock Hotel and Golf Links in Ireland for €30 million (€217,000 per room) from NAMA.
Brehon Capital Aquires The Killashee House Hotel In Ireland
Brehon Capital Partners, once again backed by US private equity group Midwest Holding, has acquired the 141-room Killashee House Hotel in the town of Kildare, 50 km west of Dublin, for €13 million (€92,200 per room) from NAMA. Craigfort Taverns, the previous owner of the four-star hotel, which is set in more than 280 acres of gardens and parkland, fell into receivership earlier this year. Brehon now owns six hotel assets across Ireland.
Less Than Four Weeks Until This Year's Hot.E
As autumn draws near, so does the start of this year's Hotel Investment Conference Europe (Hot.E), which is coming to London on 17-18 September. Held at the Jumeirah Carlton Tower, the conference is the place to be for networking opportunities with leading figures from Europe's investment community. HVS will be represented by Charles Human, managing director of HVS Hodges Ward Elliott (which is sponsoring Hot.E), Russell Kett, HVS London's chairman, and Chris Martin, a director with HVS Hodges Ward Elliott. Russell will be moderating a panel on Thursday 18 September titled The View From The Boardroom – Global Hotel Leaders, during which top industry leaders will give their take on the latest market issues, trends, opportunities and what needs to be done to meet the challenges ahead and drive growth in Europe. Russell's panelists include Radha Arora, president of Rosewood Hotels & Resorts; Ian Carter, president of global development, architecture and design at Hilton Worldwide; and Gerald Lawless, president and group chief executive officer of Jumeirah Group. For more information or to register, visit www.europehotelconference.com.
Marriott Announces Second Hotel In Belarus
Marriott International has announced that it plans to open the Marriott Minsk Hotel in Belarus at the beginning of 2015, its second hotel in the Eastern European republic. The 220-room hotel, which is to be part of a mixed-use sports and entertainment complex four kilometres outside Minsk city centre, will join the recently opened 267-room Renaissance Minsk and will operate under a franchise agreement with Vienna Hotelmanagement AG.
Kempinski Leaving London
Kempinski Hotels and the Stafford hotel in London have terminated the management agreement between the two parties by mutual consent. The 105-room, 102-year-old hotel, which is currently owned by Britannia Hospitality, will be renamed as the Stafford London. In parting ways with the Stafford, Kempinski no longer has a presence in the UK hotel market.
Fattal Take On The Management Of The Steigenberger Mannheimer Hof
As of 1 September, the 192-room Steigenberger Mannheimer Hof, in the southwestern German city of Mannheim, will be managed by Fattal Hotels. The takeover will increase Fattal's presence in the city to three hotels; it already manages the 148-room Leonardo Mannheim City Center and the 128-room Leonardo Mannheim-Ladenburg.
IHG To Open Its First Hotel In Kayseri
InterContinental Hotels Group has signed a franchise agreement with Ali Sert Otel Tur. Ins. San. Tic. Ltd that will see it open its first hotel in the city of Kayseri, in Turkey's Central Anatolia Region. The 161-room Holiday Inn Kayseri – Düvenönü is expected to open during the first few months of 2016. The new-build hotel, in the city centre, will have a rooftop bar with panoramic views over the city's historic attractions.
Minor Makes Waves In Africa
Minor International has agreed terms to purchase a portion of the shareholdings in eight Sun International hotels in Africa for US$63.9 million. The Thailand-based group has also formed a strategic partnership with Sun International, under which Minor will take on the management, marketing and distribution of the hotels and Sun will continue to manage the casino components of each property. The deal will see Minor own a 50% stake in the 173-room Royal Livingstone Hotel and the 212-room Zambezi Sun in Zambia; a 64% stake in the 196-room Gaborone Sun in Botswana; an 80% share of the 173-room Kalahari Sands in Namibia; a 37% stake in the 158-room Lesotho Sun and the 105-room Maseru Sun in Lesotho; and a 40% share in the 149-room Royal Swazi and the 202-room Ezulwini Sun in Swaziland. The Royal Livingstone Hotel will not be rebranded but will be marketed via Minor's Anantara brand. The other seven properties will all be reflagged as Avani hotels.
A New Protea Hotel Opens In Nigeria
Marriott International now has ten hotels in Nigeria, West Africa, with the opening this week of the Protea Hotel Select Ikeja. The 117-room hotel, in the city's Ikeja suburb, is just 5.2 km from Murtala Muhammed International Airport. Marriott acquired African group Protea in April this year, adding more than 10,000 rooms to its portfolio on the continent.
Studio M On Its Way To The Middle East
Millennium & Copthorne has signed an agreement with Waseel Properties to bring its budget Studio M brand to the Middle East. The 145-room hotel is to be developed in Riyadh, Saudi Arabia, and is due to open in the second quarter of 2015. "We see tremendous potential for a contemporary budget brand, given that this existing market segment is too often represented by independent properties of variable quality," said Hamad Lakhraim Alzaabi, president and chief executive officer of Millennium & Copthorne Hotels MEA. The group plans to open or at least sign six Studio M hotels across the region by 2017.
Absolute Share Price Performance Over the Past Week – 14-21 August 2014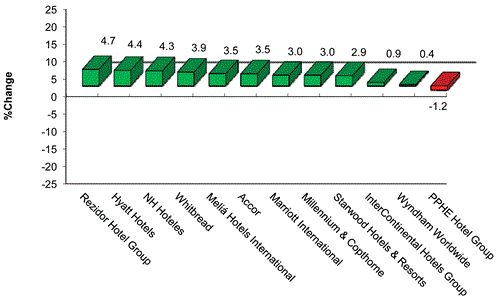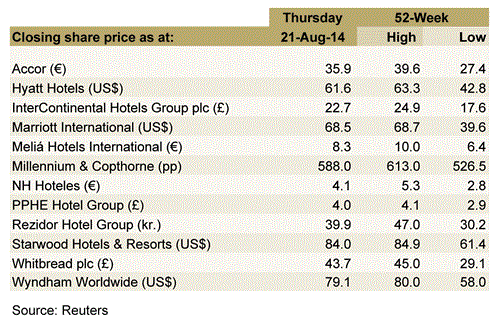 Starwood Hotels & Resorts – Barclays Capital upgraded its rating to "overweight".
Rezidor Hotel Group – Increased 1.3% on low volume.
NH Hoteles – Hit a 21-day high.
---
For the latest in the hospitality industry, please visit: http://www.hvs.com. You are also welcome to contact the following personnel.
| | |
| --- | --- |
| Russell Kett, Chairman – HVS London (@russellkett) | rkett@hvs.com |
| Charles Human, CEO – HVS London/HVS Hodges Ward Elliott | chuman@hvshwe.com |
| Chris Martin, Director – HVS Hodges Ward Elliott | cmartin@hvshwe.com |
| Tim Smith, Director – HVS London | tsmith@hvs.com |
| Arlett Oehmichen, Director – HVS London | aoehmichen@hvs.com |
| Sophie Perret, Director – HVS London | sperret@hvs.com |
| Peter Malone, CEO – HVS Executive Search, EMEA & Asia | pmalone@hvs.com |
| Demetris Spanos, Managing Director – HVS Athens | dspanos@hvs.com |
| Hala Matar Choufany, Managing Director – HVS Dubai | hchoufany@hvs.com |
| Ezio Poinelli, Director – HVS Milan | epoinelli@hvs.com |
| Louise Fury, Senior Editor and EMEA Hospitality Newsletter Author – HVS London | lfury@hvs.com |