Accor Buys Portfolio Of Leased Hotels In The UK
Accor's investment and hotel owning division, HotelInvest, has acquired a portfolio of 13 hotels (1,194 rooms) across the UK from investor Tritax for £71 million (£59,500 per room). Accor has operated the hotels, which include 12 ibis properties and one ibis budget hotel, under leases since 2001. The deal sees Accor move further away from the asset-light strategy adopted by many of its peers. However, the group's chairman and chief executive officer, Sébastien Bazin, commented, "Why not do internally what an outsider could have done on its own? I am absolutely persuaded that you can create a lot of value both in terms of margin performance and return on investment by cleaning up the portfolio". The deal means that three Accor-owned F1 hotels adjacent to the hotels in Liverpool and London will become extensions of the ibis hotels, with the aim of rationalizing the HotelIvenst portfolio.
Snoozebox To Provide Places To Sleep For The Next World Cup
UK-based portable hotel firm Snoozebox has signed a preliminary agreement to provide accommodation in Saransk, Russia, for the 2018 FIFA World Cup. One of the host cities for the event, Saransk, in west central Russia, is the capital of the Mordovian Republic. The 2,000-room Snoozebox Football Village will reportedly be built on the shores of the Lukhova Reservoir.
There's Snow Place Like Norway
A Dutch Docklands' project underway in Norway is so cool expect ice crystals and a winter wonderland. The Netherlands-based group, experts in creating floating developments, is constructing a five-star floating snowflake-shaped hotel off the coast of Tromso, in the north of the country. Due to open before Christmas 2016, the 86-room Kyrstall hotel, 120 meteres in diameter, will have a glass roof so guests can enjoy vistas of the Northern Lights and will be completely self sustaining and self supportable. The hotel was designed by Dutch architects Waterstudio.
A Tenth DoubleTree For London
Hilton Worldwide planted the first seeds for its DoubleTree by Hilton brand in the UK in 2007. Just seven years later, the brand's tenth hotel in London is now open – an existing property in the city has emerged from a multimillion pound full renovation as the DoubleTree by Hilton London – Islington. The 229-room hotel, which is operated under a franchise agreement with Jurys Inn, is 300 metres from Angel Underground Station. The hotel's room count is set to grow to 372 on 1 October following the completion of an extension to the property. The group now has 24 DoubleTrees in operation across the UK in total, with two more due to open soon.
Hotel Investment Conference The Hottest Thing In London This September
Have you got your ticket yet for the 2014 Hotel Investment Conference Europe (Hot.E)? This year's event is to take place on 17-18 September at the Jumeirah Carlton Tower. HVS will be represented by Charles Human, managing director of HVS Hodges Ward Elliott (which is sponsoring Hot.E), Russell Kett, HVS London's chairman, and Chris Martin, a director with HVS Hodges Ward Elliott. Chris is moderating a panel on the first day of the conference called The Money Hall – Round Two, A Focus On Investors – Leases. Chris's panel of experts includes Karl J. Badstuber, senior hotel specialist at AXA Real Estate; Theodor Kubak, external advisor hotel investment and asset management for Union Investment Real Estate; Anders Nissen, chief executive officer of Pandox AB; and Marc Socker, senior director for Invesco Real Estate. For more information or to register, visit www.europehotelconference.com.
New Themed Hotel Opens At Chessington
The Chessington World of Adventures Resort (CWAR) theme park, just 12 miles southwest of London in the UK, has opened its second hotel. The 69-room Azteca Hotel, which is owned and operated by CWAR, joins a former Holiday Inn property on the site that was rebranded in May as the 64-room Safari Hotel. Both hotels have themed bedrooms.
Shangri-La Welcomes Hotel Jen
Shangri-La Hotels & Resorts has announced that its 30-year-old Traders brand is to be given a makeover and a new name: Hotel Jen, which has been developed to attract a new generation of travellers. "The Hotel Jen experience delivers what matters most to guest with a millennial mind stet," said Greg Dogan, chief executive officer of Shangri-La. "They appreciate important things done well; demand quality, comfort and value, together with honest, authentic service; and want privacy and efficiency without unnecessary fuss or intrusion," he added. The Traders hotels in Singapore, Hong Kong, Brisbane, Penang, Johor Bahru, Manila, Maldives, Beijing and Shenyang will become Hotel Jen properties over September 2014 to March 2015. There are currently no confirmed plans to rebrand the Traders hotels in Dubai and Abu Dhabi.
Byblos Bringing Four Stars To Palm Jumeirah
Dubai's Palm Jumeirah development is well-known for its luxury five-star resorts but this week it has been reported that Dubai-based Byblos Hospitality is to develop a mid-market hotel on the trunk of the man-made island for less than US$50 million. The 144-room Byblos Palm Hotel is expected to cater to meetings and events business as well as tourists when it opens in 2015. Byblos currently manages six hotels (five in Dubai and one in the USA).
PPHE Group Announces Strong First-Half Results
PPHE Hotel Group achieved a 12.3% increase in total revenue to €125.4 million for the first half of 2014. EBITDA rose by 11.1% to €39.7 million and profit before tax reached €19.2 million, an increase of 106.3% on the same period last year. RevPAR for the group's hotels increased by 12.3% on the first half of 2013, to €106.5, driven by rises in occupancy and average rate to 80.3% and €132.5, respectively. Discussing the group's latest results, Boris Ivesha, PPHE's president and chief executive officer, said, "I am pleased with our trading performance during the first half of the year and expect our full results to be in line with the Board's expectations".
Absolute Share Price Performance Over the Past Week – 21-28 August 2014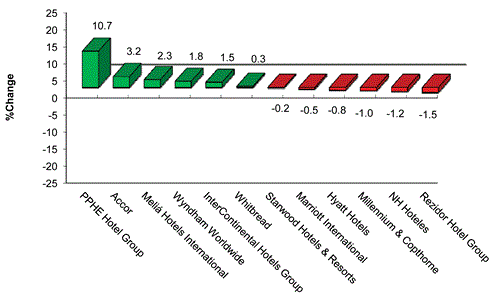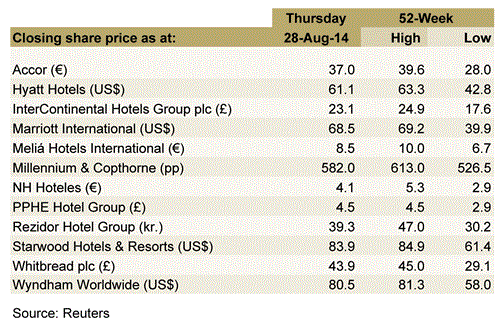 PPHE Hotel Group – Hit a 52-week high for the sixth time in one month.
Meliá Hotels International – Rose for seven consecutive days over the past week.
Whitbread – Increased 0.6% on weak volume.
---
For the latest in the hospitality industry, please visit: http://www.hvs.com. You are also welcome to contact the following personnel.
| | |
| --- | --- |
| Russell Kett, Chairman – HVS London (@russellkett) | rkett@hvs.com |
| Charles Human, CEO – HVS London/HVS Hodges Ward Elliott | chuman@hvshwe.com |
| Chris Martin, Director – HVS Hodges Ward Elliott | cmartin@hvshwe.com |
| Tim Smith, Director – HVS London | tsmith@hvs.com |
| Arlett Oehmichen, Director – HVS London | aoehmichen@hvs.com |
| Sophie Perret, Director – HVS London | sperret@hvs.com |
| Peter Malone, CEO – HVS Executive Search, EMEA & Asia | pmalone@hvs.com |
| Demetris Spanos, Managing Director – HVS Athens | dspanos@hvs.com |
| Hala Matar Choufany, Managing Director – HVS Dubai | hchoufany@hvs.com |
| Ezio Poinelli, Director – HVS Milan | epoinelli@hvs.com |
| Louise Fury, Senior Editor and EMEA Hospitality Newsletter Author – HVS London | lfury@hvs.com |