Featured in this HVS EMEA Hospitality Newsletter – Week Ending 5 September 2014
Kew Green Buys 19 UK Holiday Inns
Hotel operator Kew Green Holdings Ltd has purchased 19 Holiday Inn hotels (2,335 rooms) across the UK from LRG Holdings for a sum reported to be significantly above the £70 million guide price and believed to be around the £100 million mark. The deal means that Kew Green is now InterContinental Hotels Group's largest franchise partner in Europe with 38 Holiday Inn hotels in its portfolio. The hotels will continue to be operated as Holiday Inn properties, under new franchise agreements, and will all be extensively refurbished in the next few years. "This is an exciting acquisition for us which will enlarge our portfolio to 53 hotels with almost 6,700 bedrooms in total," said Kew Green's founder and chief executive officer, Paul Johnson.
New Owner For The Kempinski Hotel In Dresden
Businessman Erwin Conradi, the former head of Metro MG, has acquired the Hotel Taschenbergpalais Kempinski in Dresden, southeast Germany, from Octavian Hotel Holding for an undisclosed sum. In the city's historic centre, the hotel's building dates back to the 18th century and was restored in 1995. Kempinski will continue to operate the 214-room hotel.
Hotel Riu Palace Meloneras Reopens
Riu Hotels & Resorts has relaunched the Hotel Riu Palace Meloneras on the island of Gran Canaria, Spain, as a five-star resort following an extensive €30 million renovation. The 449-room property (formerly a four-star hotel) is in the resort of Playa del Inglés, on the island's south coast. Riu operates ten hotels in total on Gran Canaria, the second most populous of the Canary Islands.
Hyatt Regency Sails Into Sochi
Hyatt Hotels Corporation has opened its third hotel in Russia and its first in the seaside resort of Sochi, in the south west. The new-build, 198-room Hyatt Regency Sochi can be found on the city's promenade, with views of the Black Sea. The group signed a management agreement with Yug – Novy Vek, a subsidiary of Russian real estate company Snegiri Development, for the 14-storey property back in August 2011. Peter Norman, Hyatt's senior vice president of acquisitions and development in the EMEA region commented that the latest addition to the group's portfolio in the country "marks a significant step forward in expanding our brand presence in Russia, a country that is rapidly becoming a burgeoning business and leisure destination."
Moxy Milan Now Open
Marriott International's Moxy Hotels brand made its worldwide debut this week with the opening of the Moxy Milan. The 162-room hotel is at Terminal 2 of Milan's Malpensa Airport. The group's latest brand is described as a "boutique hotel concept for the budget savvy traveller." The brand is due to open more properties soon in key cities in Germany (Munich, Berlin and Frankfurt), the UK (London) and Norway (Oslo). "Investor interest has been exceptional and to date we have signed 11 Moxy hotels, all due to open throughout Europe by the end of 2016," said Amy McPherson, Marriott's president and managing director for Europe.
Bahrain Bags A One&Only
Kerzner International is bringing its One&Only brand to Bahrain. The group has signed an agreement with Bahrain-based Sevens Holding to develop the One&Only Bahrain on the beachfront in the Seef area of the capital, Manama. The 150-room hotel, which will have its own private beach, is expected to open in 2016. Kerzner currently has two One&Only properties operating in the Middle East (in Dubai) and eight worldwide.
Suba Expands Into The Middle East
Suba Group of Hotels has made its debut in the Middle East with a hotel in Dubai. The Mumbai-based hotel management firm, which currently operates five hotels across India, opened the 92-room Suba Hotel Dubai in the city's Deira district. A total of US$2.7 million was invested in the new-build, four-star hotel, which is locally owned. Suba has plans to expand further in the region with a second hotel in Dubai and properties in Bahrain and Qatar.
Things Are Hotting Up In London
Just before summer says farewell for another year, the Hotel Investment Conference Europe (Hot.E) is returning to London on 17-18 September. This year the conference is being held at the Jumeirah Carlton tower and it is the place to be to meet and network with Europe's leaders in the investment community. HVS will be represented by Charles Human, managing director of HVS Hodges Ward Elliott (which is sponsoring Hot.E), Russell Kett, HVS London's chairman, and Chris Martin, a director with HVS Hodges Ward Elliott. Don't miss out on seeing the panels they will be moderating: A Focus on the Investors – Private Equity (Charles, Wednesday 17), The View From The Boardroom – Global Hotel Leaders (Russell, Thursday 18) and The Money Hall – Round Two, A Focus On Investors – Leases (Chris, Wednesday 17). It's not too late to get your ticket. For more information and to register, visit www.europehotelconference.com.
Half-Year Increases For NH Hoteles
Spanish group NH Hoteles has reported its preliminary sales figures and results for the first six months of 2014. Like-for-like RevPAR grew by 2.54%. Occupancy grew in all of the group's markets, with Italy reporting strong growth of 3.66%. Like-for-like income increased 2.4% on the same period last year and, owing to the ongoing reduction in rents, like-for-like EBITDA grew by 2.3%. In terms of the forecast for 2014 overall, RevPAR is estimated to grow between 3.0% and 5.0% and recurring EBITDA is expected to grow between 5.0% and 10.0% on 2013. NH will continue with its plans to refurbish 41 hotels during 2014; work on the first properties finished in May and renovations started on a further 14 hotels over the summer.
Absolute Share Price Performance Over the Past Week – 28 August to 4 September 2014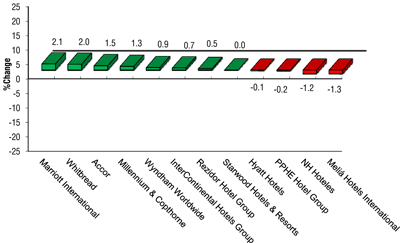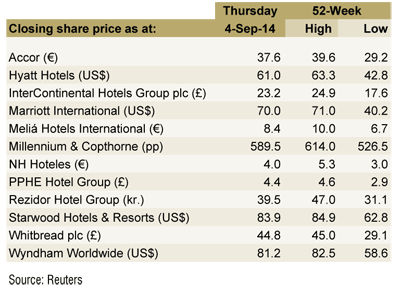 Meliá Hotels International – Rose 1.5% on high volatility.
Accor – Had a second daily rise; nearing a three-month high.
NH Hoteles – Rose 1.4% on high volatility.
---
For the latest in the hospitality industry, please visit: http://www.hvs.com. You are also welcome to contact the following personnel.
| | |
| --- | --- |
| Russell Kett, Chairman – HVS London (@russellkett) | rkett@hvs.com |
| Charles Human, CEO – HVS London/HVS Hodges Ward Elliott | chuman@hvshwe.com |
| Chris Martin, Director – HVS Hodges Ward Elliott | cmartin@hvshwe.com |
| Tim Smith, Director – HVS London | tsmith@hvs.com |
| Arlett Oehmichen, Director – HVS London | aoehmichen@hvs.com |
| Sophie Perret, Director – HVS London | sperret@hvs.com |
| Peter Malone, CEO – HVS Executive Search, EMEA & Asia | pmalone@hvs.com |
| Demetris Spanos, Managing Director – HVS Athens | dspanos@hvs.com |
| Hala Matar Choufany, Managing Director – HVS Dubai | hchoufany@hvs.com |
| Ezio Poinelli, Director – HVS Milan | epoinelli@hvs.com |
| Louise Fury, Senior Editor and EMEA Hospitality Newsletter Author – HVS London | lfury@hvs.com |