Westmont To Buy The Lowry
Rocco Forte has reportedly agreed to sell The Lowry Hotel in Manchester, northwest England, to Westmont Hospitality for approximately £45 million (£272,700 per room). The 165-room, five-star hotel, on the banks of the River Irwell, was placed on the market in January 2014 for offers of more than £40 million. The deal will mark Westmont's second regional hotel acquisition in the UK this year, following its purchase of the 120-room Brooklands Hotel in April for around £20 million (£166,700 per room).
A Second Hotel In Jersey for Hand Picked Hotels
Hand Picked Hotels has purchased its third hotel in the Channel Islands and its second on the island of Jersey, expanding its portfolio of country house hotels across the UK and the Channel Islands to 21. The northeast England-based group acquired the 123-room Grand Jersey Hotel and Spa from RBS Real Estate Management for an undisclosed sum; the five-star hotel, in the island's capital, St Helier, was put on the market in May for a minimum of £15 million (£122,000 per room). Hand Picked have now taken on the management of the hotel and it will be fully rebranded next year.
Dalata To Purchase Derry's Tower Hotel
Dalata Hotel Group is to acquire the Tower Hotel in the town of Derry, Northern Ireland, for approximately €4.4 million (€47,300 per room), payable in cash. The freehold sale is expected to close in October 2014 and the hotel will be rebranded under Dalata's Maldron brand. The 93-room hotel will be the Dublin-based group's second property in Northern Ireland, alongside the Maldron Hotel Belfast, and is the only hotel within the walls of Derry's historic Old Town.
GledenInvest New Owner Of Prague's Augustine Hotel
Private Russian investment company GledenInvest, founded by Alexander Klyachin, has completed the purchase of the Augustine Hotel in Prague, Czech Republic, from Vienna-based real estate group Raiffeisen Evolution for an undisclosed sum. The 101-room hotel, in Prague's Old Town, opened in 2009. It is housed over seven buildings, including a 13th-century monastery. GledenInvest commented that it will now look for an experienced international operator to reposition the hotel as a top luxury product.
St James's Legacy In Shakespeare Country
St James's Hotel Group has acquired the Legacy Falcon Hotel in Stratford-upon-Avon in England's West Midland's region, the birthplace of William Shakespeare, from administrators Grant Thornton for an undisclosed sum. St James's is to take on the management of the property and carry out a £6 million refurbishment at the 83-room hotel, which is housed in a 16th-century former residence.
Discount For HVS Subscribers At Henry Stewart Conference In November
HVS London's Tim Smith will be speaking at Henry Stewart's annual Finance for Hotel Investment and Development in the UK and Continental Europe briefing on Wednesday 26 November at Le Méridien Piccadilly in London. The conference organiser is offering a 50% discount on the registration fee to HVS contacts, which reduces the cost per delegate to £249.50 plus VAT. For more information on the conference, please click here. How to book: to book online by credit card, please click here and insert discount code HVS50 when prompted to receive your 50% discount. If you would like to be invoiced please email dawnb@henrystewart.co.uk and provide the following information: full name(s), position(s) and email addresses of all delegates; title of conference; full company name and address for the invoice; name of the person making the booking if different from delegate(s); and don't forget to quote discount code HVS50 to receive your 50% discount.
Two Firsts For Starwood In Turkey
Starwood Hotels & Resorts has signed a franchise agreement with Turkish-based Ever Group for the Four Points by Sheraton Istanbul Dudullu, which when it opens at the end of 2014 will be the first Four Points by Sheraton in Turkey and Starwood's first hotel in the Asian side of Istanbul. The 182-room hotel will be part of a larger multiuse complex, a 20-minute drive from Sabiha Gokcen Airport. This is the second franchise agreement the group has signed with Ever Group; the Four Points by Sheraton Istanbul Batisehir, which is due to open in 2015, is also owned and will be managed by Ever Group. Also in Turkey this week, Starwood announced the opening of its tenth hotel in the country and its first in Adana, the fifth-largest city in Turkey in terms of population. The 17-storey, 240-room Sheraton Adana Hotel was developed in partnership with SERKA Turizm A.S., an Adali Holding Company on the banks of the Seyhan River.
A Seventh Scandic For Stavanger
Scandic has signed an agreement that will see it open its seventh hotel in the Norwegian city of Stavanger, which, in southwest Norway, is considered the centre of the country's oil industry. The Scandic Stavanger Congress is being constructed by Herman Wedels Plass AS and is expected to open in 2016 with 350 guest room and 15 meeting rooms. The Nordic hotel group acquired Rica Hotels in February, giving it six hotels in the city, and it opened the 226-room Scandic Stavanger City this April.
A Second Rezidor Hotel For Sheremetyevo Airport
Carlson Rezidor Hotel Group has opened its second hotel at Moscow Sheremetyevo Airport in Russia. With a skywalk providing access to the airport, the Radisson Blu Hotel Moscow Sheremetyevo Airport is the only hotel in the city to be connected directly to the terminal buildings. Owned by Norwegian investment company Wenaasgruppen, the 391-room hotel is the group's seventh property in the Russian capital overall.
Autograph Collection Continues To Expand In Europe
Marriott International has plans to open two new Autograph Collection properties in Europe. The Kameha Grand Zürich will become the first Autograph Collection hotel in Switzerland when it opens in Zürich in spring next year. The 245-room hotel will be operated by Kameha Grand Glattpark Betriebsgeselleschaft mbH. Also due to open in spring 2015 is the Cotton House, Barcelona. This 83-room boutique hotel will be housed in a 19th-century building in Barcelona city centre and will be Marriott's seventh hotel in the collection in Spain – five Autograph Collection properties are already in operation in Granada, Madrid, Santiago and Seville and the AC Baqueira ski resort is expected to open for the beginning of the winter season later this year.
IHG Signs New Multiple Development Agreement In Germany
InterContinental Hotels Group (IHG) has signed its seventh multiple development agreement in Germany with its existing owner partner, Sierra Hotel Management Ltd. The agreement covers five hotels and the first property to open will be the Holiday Inn Express Karlsruhe – City Park. The new-build, 115-room hotel is expected to open in mid-2016 in the city of Karlsruhe, in southwest Germany. Commenting on the latest agreement with Sierra, René Schappner, IHG's director of development for Germany, said, "…this growth engine is going to greatly help accelerate our shared development goals for Germany."
Europe's First Element Opens In Frankfurt
After its launch in 2008, Starwood Hotels & Resorts' Element brand has made its European debut this week with the opening of the Element Frankfurt Airport in Germany. The 133-room hotel is Starwood's fifth hotel in Frankfurt and its 25th in the country overall. Europe's second Element is due to open in December 2016 in the UK, in London; followed by the brand's first appearance in the Middle East (Muscat, Oman) in January 2017.
Starwood And Maritim Expand In Mauritius
Starwood Hotels & Resorts' Westin brand has made its first appearance on the island of Mauritius, off the southeast coast of Africa, with the opening of the Westin Turtle Bay Resort & Spa, Mauritius. The 190-room resort is spread over ten acres on the island's northwest coast. The resort is Starwood's third property in Mauritius overall, joining the St. Regis Mauritius Resort and Le Méridien Il Maurice. Maritim Hotels has signed a management agreement for its second hotel in Mauritius. An existing property on the island will operate as the 181-room Maritim Crystals Beach Hotel as of 15 September 2014.
Crowne Plaza On Its Way To Addis Ababa
InterContinental Hotels Group (IHG) has signed a management agreement with Tsemex Hotels and Business Plc for its first hotel in landlocked Ethiopia, in the horn of Africa. The Crowne Plaza Addis Ababa is expected to be developed near to some of the Ethiopian capital's significant landmarks, such as the African Union headquarters and the United National Convention Centre. IHG currently has 29 hotels in operation in 13 countries across the African continent.
Jumeirah Group Announces VENU
Jumeirah Group has announced that it plans to launch a new lifestyle brand called VENU. Dubai-based development firm Meraas Holding is currently in talks with Jumeirah to operate the first VENU property, which is expected to be on Bluewaters Island in Dubai. Nicholas Clayton, chief executive officer of group operations at Jumeirah commented that "The time is right for us to launch a new contemporary lifestyle brand. Its provenance and energy comes from Dubai – and the first few VENU hotels will open here – but it is ultimately a powerful way of taking the core essence of Dubai out into the international market, reflecting the city's energy, dynamism and cosmopolitan nature".
A Mandarin Oriental Resort Announced For Dubai
Mandarin Oriental Hotel Group is to manage a resort in Dubai. The 200-unit Mandarin Oriental Dubai is currently being developed (by Wasl Hospitality LLC) on Jumeirah Beach Road and is due to open in 2017. The resort is owned by Dubai Real Estate Corporation. This is Hong Kong-based Mandarin Oriental's first foray into the United Arab Emirates.
Absolute Share Price Performance Over the Past Week – 4-11 September 2014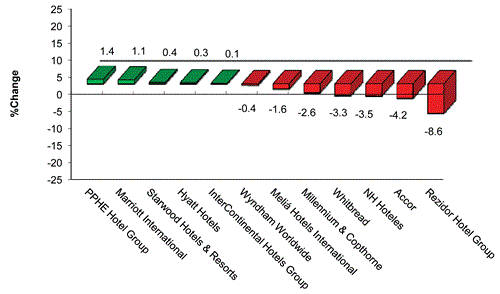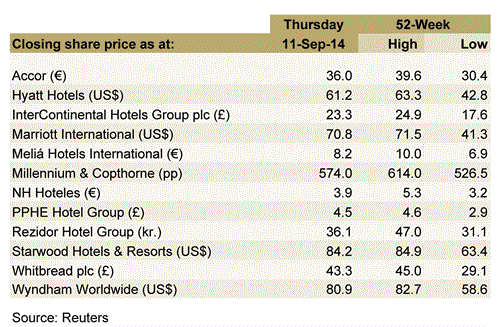 PPHE Hotel Group – Hit a 52-week high for the tenth time in the past month.
InterContinental Hotels Group – Hit a two-month high.
Meliá Hotels International – Decreased on low volume.
---
For the latest in the hospitality industry, please visit: http://www.hvs.com. You are also welcome to contact the following personnel.
| | |
| --- | --- |
| Russell Kett, Chairman – HVS London (@russellkett) | rkett@hvs.com |
| Charles Human, CEO – HVS London/HVS Hodges Ward Elliott | chuman@hvshwe.com |
| Chris Martin, Director – HVS Hodges Ward Elliott | cmartin@hvshwe.com |
| Tim Smith, Director – HVS London | tsmith@hvs.com |
| Arlett Oehmichen, Director – HVS London | aoehmichen@hvs.com |
| Sophie Perret, Director – HVS London | sperret@hvs.com |
| Peter Malone, CEO – HVS Executive Search, EMEA & Asia | pmalone@hvs.com |
| Demetris Spanos, Managing Director – HVS Athens | dspanos@hvs.com |
| Hala Matar Choufany, Managing Director – HVS Dubai | hchoufany@hvs.com |
| Ezio Poinelli, Director – HVS Milan | epoinelli@hvs.com |
| Louise Fury, Senior Editor and EMEA Hospitality Newsletter Author – HVS London | lfury@hvs.com |