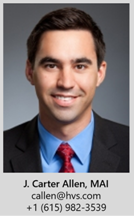 Nashville, TN: HVS has announced that J. Carter Allen, MAI, Senior Vice President will be a panel participant at the Hotel Data Conference (HDC), hosted by STR and Hotel News Now, scheduled for September 6–8 at The Omni Nashville Hotel. HDC includes presentations from major hotel brands, OTAs, Airbnb, industry partners, and independent hotel and destination representatives, enabling attendees to obtain critical data in fast-paced sessions.
According to Rod Clough, MAI, Managing Partner of HVS, "Carter excels at analyzing complex issues concerning the value of a hotel or the feasibility of a proposed lodging asset. His keen ability to evaluate the anatomy of a hotel and the market that sustains it is always reliable, with attention to the smallest detail."
On September 7, at 11:40 a.m., Carter will be a panelist on the session "The Cost of CapEx," which will be moderated by Terence Baker, a reporter for Hotel News Now in Europe. Carter and representatives from ProfitSword, Fillmore Hospitality, and Best Western Hotels & Resorts will discuss the importance of understanding how to make every dollar in capital-expenditure budgets work best. Participants will learn about real-world examples of how hoteliers manage CapEx reserves, where the money is being allocated, and how to maximize CapEx spending as the economic cycle recalibrates.
A graduate of University of Houston's Conrad N. Hilton College of Hotel and Restaurant Management, Carter served as President of the University of Houston's student chapter of Hospitality Finance and Technology Professionals.