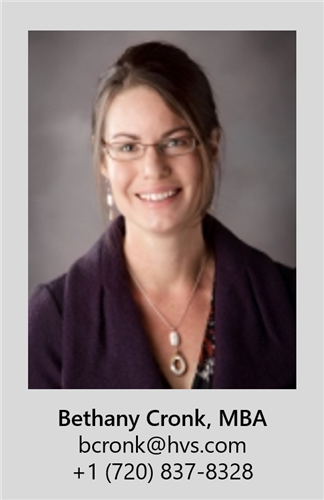 Breckenridge, CO: HVS has announced that Bethany Cronk, MBA, Senior Vice President will be speaking at the Colorado Chapter of the Appraisal Institute Fall Event to be held at the Beaver Run Resort in Breckenridge on September 9 – 11. Her session is slated for Sunday, September 11, 8:00 a.m. to 12 Noon. Bethany's focus will include a review of key risk factors to be considered in hotel appraisals, from branding to capital expenditures. An overview of the U.S. and Colorado lodging trends will also be highlighted.
According to Rod Clough, MAI, Managing Partner of HVS, "Bethany has performed hundreds of hotel appraisals, market studies, and feasibility analyses for lenders, developers, and hotel owners across the nation. She is particularly experienced in portfolio valuation, and she has managed complex consulting assignments for private and public hotel development projects involving lodging site and brand analyses, sensitivity analyses, demand studies, and facility recommendations. She also has significant expertise in the analysis of group-oriented hotels, resorts and destination properties, IACC conference center hotels, airport terminal hotels, and convention headquarters hotels."
Bethany's prior hotel management experience includes over a decade with Hyatt, Hilton, and Sheraton Hotels. She earned an MBA in both Finance and Marketing from the University of Denver, and an undergraduate degree from Cornell University's School of Hotel Administration. She is an Associate Member of the Appraisal Institute and a Certified General Appraiser in multiple states.
Media Contact:
Lizzette Casarin
Marketing Director
lcasarin@hvs.com
+1 (720) 244-7620