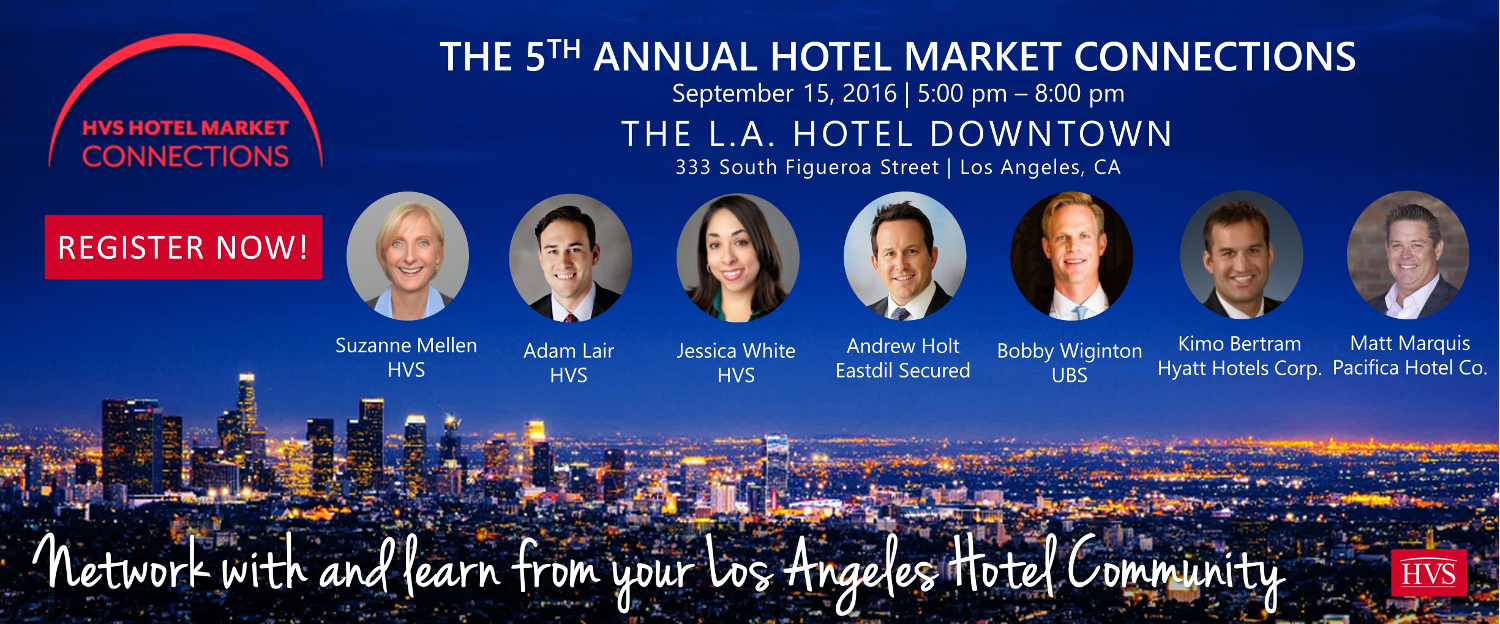 Los Angeles, CA: The 5th Annual Hotel Market Connections (HMC) Networking Event will be held at the Los Angeles Hotel Downtown on September 15, 2016, beginning with registration at 5:00 p.m.
Collectively, over 860 participants from about 500 companies attended the 4th Annual HMC events across the United States, Canada, and Mexico in 2015. Already held in several locations around the world, HMC Los Angeles will focus on building our community through networking, offering interactive presentations, and engaging conversations at roundtables with hotel owners, lenders, and investors. These exclusive gatherings, orchestrated by HVS offices, spotlight trends in hotel lending and provide current snapshots related to hotel valuation, transactions, cap rates, and operating trends in each market.
A panel of local market experts, including Andrew Holt, Senior Vice President of Eastdil Secured; Bobby Wiginton, Director of UBS; Kimo Bertram, Vice President Real Estate and Development, Hyatt Hotels Corporation; and Matthew D. Marquis, President of Pacifica Hotel Company will be sharing their valuable insights and expertise.
The event concludes with a networking reception where attendees will be able to make connections and build or maintain lasting and mutually beneficial relationships. HVS's intent is to function as a catalyst to ensure you meet the right people to include in your network and expand your range of influence. Our peers do business with those they know and trust. Join us at HMC Los Angeles to serve as a resource and help create a tight-knit community.
According to Suzanne Mellen, MAI, CRE, FRICS, ISHC, Practice Leader of HVS Consulting & Valuation Services, "This event has achieved great recognition among stakeholders in the industry and provides members of the hospitality industry's inner circle with updated forecasts, valuation insights, and lending trends, as well as an opportunity to garner new contacts."