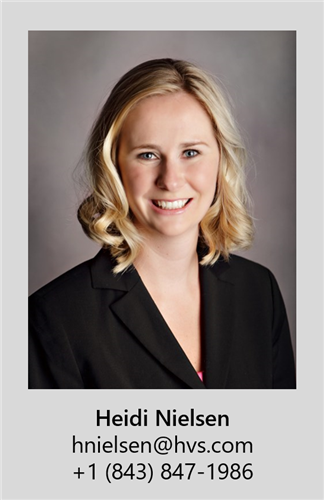 Charleston, SC: HVS is pleased to announce that Heidi Nielsen has been promoted to Senior Vice President.
According to Rod Clough, MAI, Managing Partner of HVS, "An HVS team member for just over 10 years, Heidi leads our Charleston location and has been instrumental in building our base of business in the Carolinas and Georgia over the past several years."
Having cultivated a keen insight on lodging markets in the southeastern U.S., she serves as a trusted advisor offering guidance to numerous hotel owners, lenders, and investors on project feasibility and value conclusions.
Heidi has written articles focused on hotel markets in Atlanta, Birmingham, and Charleston, as well as a review concerning the unique dynamics of lodging markets proximate to major U.S. military installations. She is a certified general appraiser in North Carolina and South Carolina.
Heidi earned her bachelor's degree from the College of Charleston and spent a semester studying at the University of Reading in Reading, England. She acquired hotel operations experience while working at The Sanctuary at Kiawah Island Golf Resort.