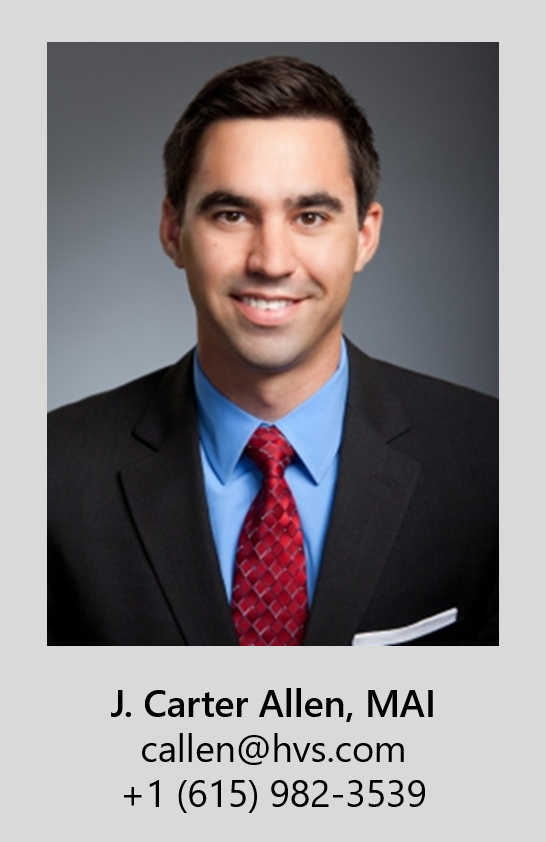 Nashville, TN: HVS is honored to announce that J. Carter Allen has been awarded the prestigious Member Appraisal Institute (MAI) designation from the Appraisal Institute, which is held by appraisers who have attained the highest level of proficiency and expertise in the valuation of commercial real estate, including hospitality assets, among other types of real estate.
Carter joins an exclusive group of appraisers who have met arduous requirements of education, experience, comprehensive testing, peer review, and trustworthy compliance to Uniform Standards of Professional Appraisal Practice (USPAP) and the Appraisal Institute's Standards of Professional Practice and Code of Ethics. Furthermore, the MAI designation has been long recognized by courts of law, government agencies, financial institutions, and investors as marks of excellence in the field of real estate valuation and analysis.
Carter holds state-certified general appraisal licenses in various states and oversees the firm's Nashville practice. He graduated from the University of Houston's Conrad N. Hilton College of Hotel and Restaurant Management with an emphasis on Hospitality Finance and Development and a minor in Finance from the University's Bauer School of Business. He served as President of the University of Houston's student chapter of Hospitality Finance and Technology Professionals. Carter also served as President of Pi Kappa Phi at the University of Houston and went on to consult for Pi Kappa Phi Properties in Charlotte, North Carolina, before joining HVS. His experience also spans front-line work at The Houstonian hotel and operations and management internships with JW Marriott and CenterPointe Hotels.
According to Rod Clough, MAI, Managing Partner, "Carter's passion for hotels is evident in each hotel assignment he conducts for the firm. He excels at analyzing complex issues concerning the value of a hotel or the feasibility of a proposed lodging asset. Carter's keen ability to evaluate the anatomy of a hotel and the market that sustains it goes to the heart of what distinguishes an HVS hotel appraisal report from that of the competition: reliability and attention to the smallest detail."
Media Contact:
Lizzette Casarin
Marketing Director
lcasarin@hvs.com
+1 (720) 244-7620