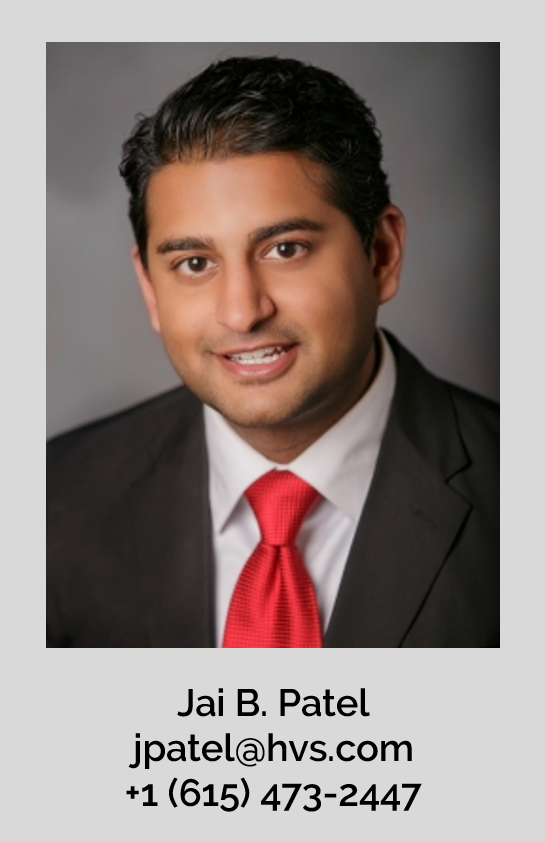 Nashville, Tennessee:
HVS
is pleased to announce that
Jai B. Patel
has been promoted to Vice President. Jai completes much of the client appraisal work in the Tennessee-Kentucky-Indiana region of our domestic operations, and has become a trusted expert in this geographic area. Jai's assignments range from appraisals of existing hotel and resort assets to feasibility and consulting assignments for proposed hotel, resort, and mixed-use developments. Some of his most high-profile assignments include proposed convention center hotels in the Nashville, Louisville, and Indianapolis markets.
According to
Daniel P. McCoy, MAI
, Managing Director of the HVS St. Louis office,
"Jai is valuable asset in our coverage of consulting and valuation in Nashville and its surrounding areas. His deep hospitality roots help him provide great insight into the region's hotel markets, as well as a keen understanding our clients' needs."
His parents began their hospitality enterprise with the 18-room American Inn in Metropolis, Illinois, and Jai has grown attuned to the responsibilities, challenges, and rewards of hotel operations ever since. When the family's Nashville hotels faced bankruptcy in the worst of the Great Recession, Jai stepped in to assume management. Three years later, revenues doubled, customer-service scores shot upward, and operational costs dropped as the hotel went green. His efforts to turn the struggling hotel around earned Jai the honor of the 2012 Business Leader of the Year in Nashville by
Business Leader Magazine.
As Vice President, Jai will use his hard-earned knowledge of hotel operations, competitive markets, and performance trends to advise prospective clients on valuations of resident hotels or the prospects of new development.
Jai earned bachelor degrees in Finance and Enterprise Management from The University of Tennessee in Knoxville. He remains active in hospitality organizations, including the Asian American Hotel Owners Association (AAHOA) and the Tennessee Business Association (TBA).
Media Contact:
Lizzette Casarin
Marketing Director
lcasarin@hvs.com
+1 (720) 244-7620