HVS and BCLP Jointly Hosted the
2019 HVS Hotel Market Connections in Bangkok
August 22, 2019: HVS
and Bryan Cave Leighton Paisner (BCLP) co-hosted HVS Hotel Market Connections 2019 on August 22, in Bangkok, Thailand.
The event brought together key industry stakeholders, including prominent experts on management contracts and negotiations, in an evening of networking at the InterContinental Hotel Bangkok.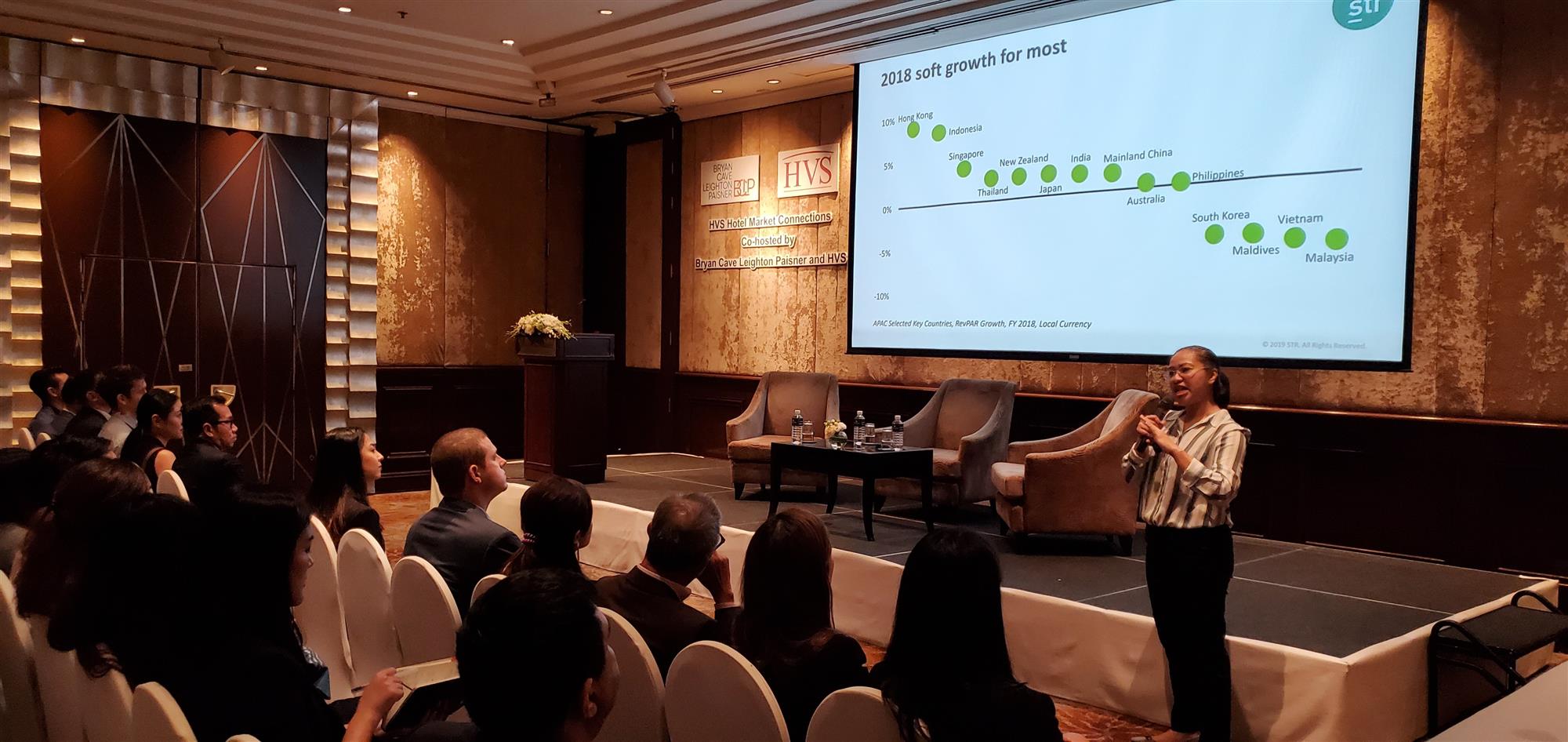 Fenady Uriarte, of STR, presented the latest trends in performance in South East Asia, with a focus on the recent hotel market performance in a number of key markets in Thailand, such as Bangkok and Phuket.
The session was followed by a panel discussion on hotel management contracts, led by Tien Gui Koh, Partner of BCLP and Daniel J. Voellm, Managing Partner at HVS Asia Pacific. Stephan Vanden Auweele, Chief Hospitality Officer at Asset World Corporation, joined them on stage to share his insights as an asset owner of multiple branded properties. The event provided a platform for dialogue on latest trends and critical issues in the hospitality industry.
Daniel J Voellm, Managing Partner at HVS Asia Pacific, said: "The 3rd HVS Hotel Market Connections event in Bangkok provided a great platform for our industry friends to network and learn about some of the challenges surrounding the current market environment. With the contribution of the HVS team in collaboration with BCLP, the event reflects positively upon the continued maturing of the market, which does bear opportunities for a spectrum of investors.".
Tien Gui Koh, Partner at BCLP, commented: "We were honoured to have the opportunity to collaborate with HVS and to share our views and experiences dealing with hotel management agreements with industry professionals in Bangkok".
(Ends)
For further information, please contact:
To learn more about other HVS conferences and seminars, please visit

HVS.com/events/
_______________________________________________________________________________________
ABOUT HVS
HVS
, the world's leading consulting and services organization focused on the hotel, mixed-use, shared ownership, gaming, and leisure industries, celebrated its 35th anniversary last year. Established in 1980, the company performs 4,500+ assignments each year for hotel and real estate owners, operators, and developers worldwide. HVS principals are regarded as the leading experts in their respective regions of the globe. Through a network of more than 40 offices and more than 350 professionals, HVS provides an unparalleled range of complementary services for the hospitality industry.

HVS.com
Superior Results through Unrivalled Hospitality Intelligence. Everywhere.
ABOUT BRYAN CAVE LEIGHTON PAISNER
With over 1,400 lawyers in 31 offices across North America, Europe, the Middle East and Asia, Bryan Cave Leighton Paisner LLP is a fully integrated global law firm that provides clients with connected legal advice, wherever and whenever they need it. The firm is known for its relationship-driven, collaborative culture, diverse legal experience and industry-shaping innovation and offers clients one of the most active M&A, real estate, financial services, litigation and corporate risk practices in the world.
Bclplaw.com