Montego Bay, Jamaica, November 21, 2019:
The Caribbean Hotel Investment Conference and Operations Summit (
CHICOS
), the only forum in the region for discussion of relevant and timely hospitality development issues, just concluded its 9th edition with great fanfare and a record-breaking 325-person attendance. For the first time, CHICOS met in Montego Bay, Jamaica, with a warm welcome from The Most Honourable
Andrew Michael Holness
, Prime Minister of Jamaica, and Diane Edwards, President of
JAMPRO – Trade and Investment, Jamaica
. The conference was held November 13–15 at the Secrets Resort in Montego Bay, a flagship property of sponsor
Apple Leisure Group
.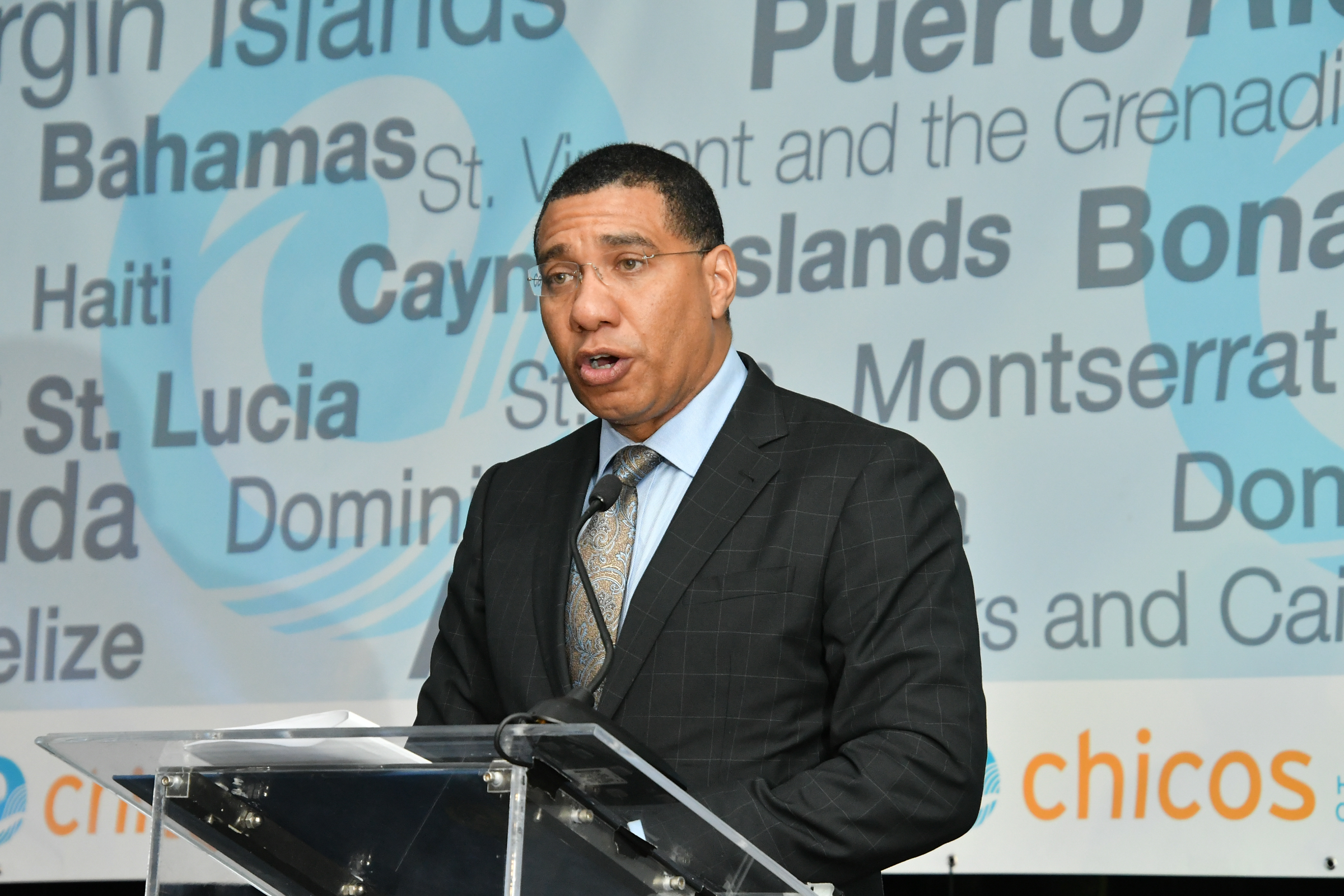 The Most Honourable Andrew Michael Holness, Prime Minister of Jamaica,
welcoming the CHICOS delegates on the first day of the conference
CHICOS Founder and Chairman,
Parris Jordan
, led the prestigious lineup of speakers with an update of Caribbean occupancy and average-rate statistics.
"Every little thing is gonna be alright"
served as this year's theme, as Jordan detailed how Caribbean hospitality numbers remained strong despite global numbers softening.
"Market-wide fundamentals since the last downturn have been strong,"
said Jordan.
"Overall, the market in the Caribbean is performing strongly."
The following destinations exhibited notable increases to RevPAR during the year-to-date (YTD) period through September 2019, compared to the same period last year:

Bahamas occupancy is up 22.4%; ADR is up 5.3%
Jamaica occupancy is up 5.3%; ADR is up 4.1%
Aruba occupancy is up 9.3%; ADR is up 8.2%
Cayman occupancy is up 8.7%; ADR is up 9.3%
Curacao occupancy is up 5.4%; and ADR is up 4.7%

"There has been a significant amount of capital that has been invested in the region, resulting in higher-quality product offerings of hotels and a variety of product, including luxury, select-service, and all-inclusive properties. Some have been new builds, while others were acquired, renovated, remodeled, or upgraded," added Jordan.
"For the YTD period through July 2019, visitor arrivals in the Caribbean were up 9.7%, while the global average registered 4.4%. Our region received a peak 30.6 million visitors in 2017, with increases recorded every year since 2010. The visitor count from the U.S. is up 20%, with a YTD record of 8.9 million visitors; Canada is up 2.4%; and Europe visitation to the region remains flat.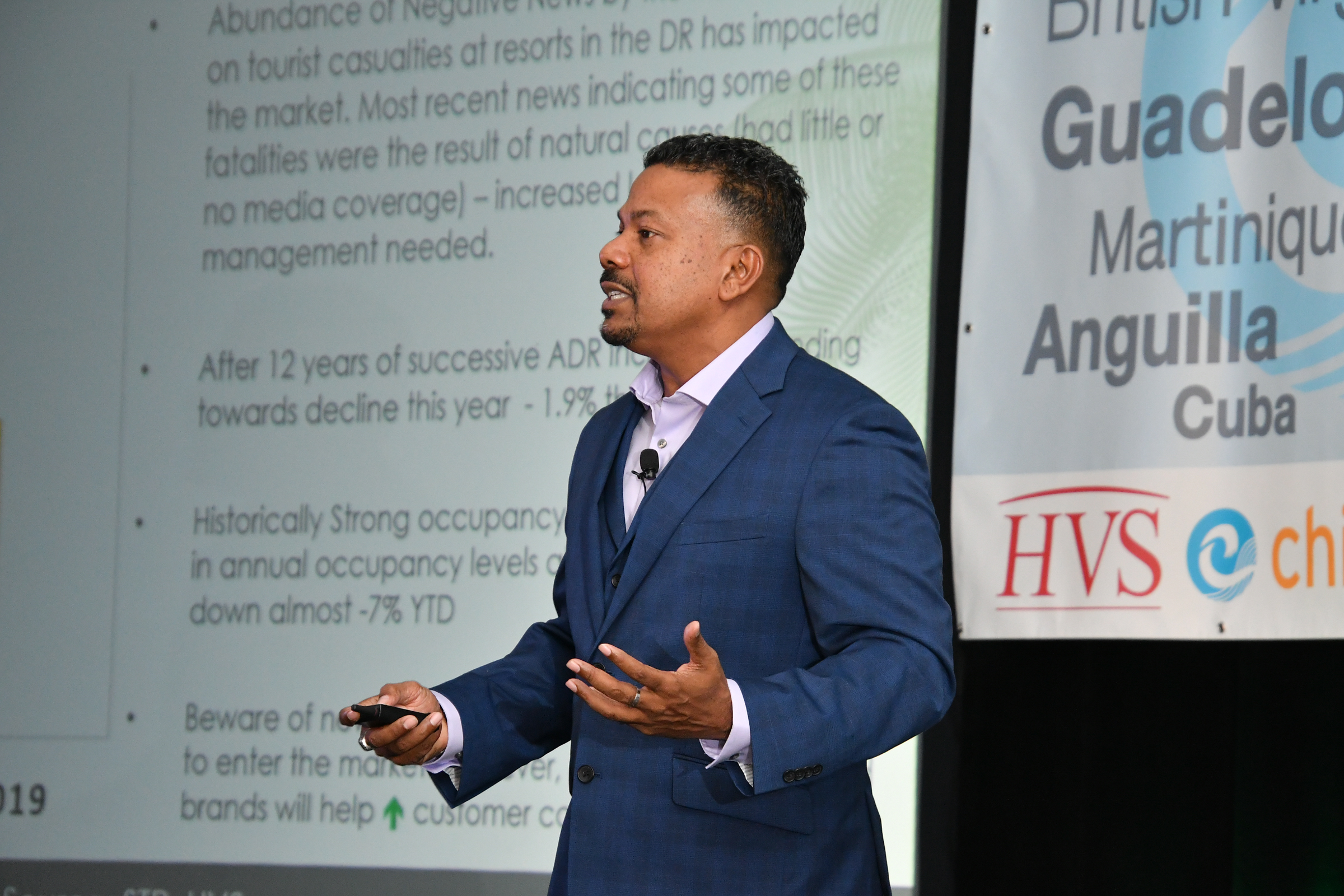 Parris Jordan, Chairman of CHICOS, opening the first day of the conference in Jamaica
with a presentation on the Caribbean Hotel Market Overview
Industry executives including Fernando Fernandez, VP Development of the Caribbean for
Apple Leisure Group
; Tommaso Sandretto, CEO,
Sole Resorts
; Ruben Becerra, VP Corporate Affairs and Business Development for
Karisma Hotels and Resorts
; and Mauricio Elizondo, Director of Development for
Grupo Posadas
championed the region's increasing number and quality of all-inclusive products, while the Ministers' panel, featuring The Honourable Edmund Bartlett,
Minister of Tourism, Jamaica
; The Honorable Joseph Boschulte, Commissioner,
U.S. Virgin Islands
; The Honorable Dionisio D'Aguilar,
Minister of Tourism, Bahamas
; The Honorable Dominic Fedee,
Minister of Tourism, St. Lucia
; and Angela Musgrove, SVP Investor Services,
Invest Turks and Caicos
, shared their nation's respective amenities and incentives for developers.
A well-attended breakout session focused on crisis public relations to manage news, and actions related to climate change or weather-related issues also led to the concluding presentation delivered by
Dr. Richard LoPinto
, a globally recognized environmental researcher.
The 10th anniversary edition of CHICOS is scheduled for November 12 & 13, 2020, to be held at the Grand Hyatt Baha Mar, Nassau, Bahamas. Bahamas Minister of Tourism D'Aguilar shared the announcement with Jordan and enthusiastically congratulated Jamaica's investment arm, JAMPRO, for hosting this year's reputable event.
About CHICOS
Powered by HVS, the Caribbean Hotel Investment Conference & Operations Summit (CHICOS) is the premier industry conference for the region. CHICOS 2020 welcomes governmental representatives, opinion leaders, developers, bankers and other lenders, tourism officials, investment funds, hotel brand executives, individuals/companies seeking investors for their tourism projects, franchise and operations companies, public and private institutions, consultants, advisors, architects, and designers to discuss the region's markets and possibilities.
https://chicos.hvsconferences.com/.
Media Contact for CHICOS:
Leora Halpern Lanz, LHL Communications
[email protected]
Mobile: 516-680-8529