Fitzpatrick Lifestyle Hotels has been acquired by three businessmen (John Malone, John Lally and Paul Higgins) for more than €150 million (roughly €385,600 per room). The Fitzpatrick portfolio, which was put on the market in June 2016, comprises the 121-room Morgan Hotel, the 88-room Beacon Hotel and the 180-room Spencer Hotel, all in Dublin, Ireland. The hotels will continue to operate under their existing brands and operating agreements. Malone, Lally and Higgins also own the Westin and InterContinental hotels in Dublin alongside properties in Galway and Limerick.
AccorHotels has announced the launch of its new brand, JO&JOE, which will be part of the French group's economy brand portfolio and is expected to offer the best features of private rentals, hostels and hotels in each property. JO&JOE is aimed at millennials and "future guests". Accor plans to open 50 JO&JOE properties by 2020. Locations include Paris and Bordeaux (2018) and also Warsaw, Budapest, Rio and São Paulo. "JO&JOE represents the very essence of hospitality: welcoming, exciting and beyond our guests' expectations," said AccorHotels' chairman and chief executive officer, Sébastien Bazin.
InterContinental Hotels Group (IHG) has signed a multiple development agreement with Hamburg-based, family owned NOVUM Hotel Group for 20 hotels across Europe, in locations such as Germany, Austria and the Netherlands. Commenting on the announcement, Robert Shepherd, IHG's chief development officer for Europe, said: "Europe is growing at pace and we are well positioned to take advantage of the appetite for branded growth. We cannot wait to kick off the beginning of this long-term partnership with NOVUM Group." Chief executive officer and owner of NOVUM, David Etmenan, added, "Franchise partnerships are of particular importance to our international expansion and we see IHG and its winning portfolio of brands as the optimal way to gain ground and advance our European expansion strategy." This will be the pair's first venture together.
Hyatt Hotels Corporation has got together with Dogus Croatia (a fully owned subsidiary of Turkish conglomerate Dogus Group) to create the first Hyatt Regency hotel in Croatia and the first Hyatt hotel on the Adriatic Sea. The Hyatt Regency Zadar Maraska is expected to open in spring 2019 in the city of Zadar on Croatia's Dalmatian Coast. The 130-room hotel will be developed in the city's famous waterfront Maraska building and will become the fourth property owned by Dogus Group to be operated by Hyatt.
Following the completion of an £11 million refurbishment, the former Glasgow Central Hotel in Scotland has reopened as the 300-room DoubleTree by Hilton Glasgow Central, bringing Hilton's portfolio in Scotland up to 16 properties. The hotel, the first of its brand in Glasgow, Scotland's largest city, is owned and managed by Amaris Hospitality.
Steigenberger Hotel Group has opened its second property in Turkey: the 209-room Steigenberger Airport Hotel Istanbul, which is just four kilometres away from the city's Atatürk Airport and 25 minutes from Istanbul city centre. "We are proud to open our second hotel in Turkey and to expand our international portfolio further," commented Puneet Chhatwal, the group's chief executive officer. "Our guests will enjoy Turkish hospitality meeting German standards in one of the most pulsating cities of the world," he added. The hotel is operated by Korcan Turizm Petrol Ürünleri Ticaret Sanayi A.S under a franchise agreement.
Rocco Forte Hotels plans to open a second property in Rome, Italy. The 192-room Hotel De La Ville, at the top of the Spanish Steps close to the group's existing hotel in the city (the Hotel de Russie), is to undergo a full restructuring and refurbishment (carried out by Reale Group's real estate division) and will reopen with a reduced room count of 105 at the end of 2018. "It has been a long standing ambition of mine to have a second property in Rome so I am delighted to be working with the prestigious Reale Group to launch a new hotel in the heart of the city," said Sir Rocco Forte.
Leonardo Hotel Group has announced a second property for the UK. An existing 282-room hotel in the Haymarket area of central Edinburgh, Scotland, which will undergo an extensive renovation, is to start operating as the Leonardo Hotel Edinburgh City Centre on 7 October 2016. Leonardo made its first appearance in the UK in March 2015 with the opening of the Leonardo Hotel London Heathrow Airport. Additionally, this week Leonardo also expanded its portfolio in the Spanish city of Madrid. Less than two months ago, the group acquired two hotels in the city, and it has now taken over the four-star Gran Atlanta Madrid. The 180-room hotel is at the centre of the city's business and banking quarter. The hotel will undergo a renovation over the next year and will continue to operate under its current name before being reflagged as a Leonardo hotel in autumn 2017.
Chinese company Plateno Group is to open its second property in Germany via its Berlin-based European subsidiary. The new-build, 91-room 7 Days Premium Hotel Munich Sendling is expected to open in the fourth quarter of 2017 as the first of its brand in Germany's Bavarian region, and will become the group's fourth hotel in Europe. Additionally, Plateno Group also has plans to open a 150-room 7 Days property at Leipzig/Halle Airport at the end of 2017 and it recently signed a 155-room hotel project for Berlin, due to open by the end of 2017 within walking distance of the city's Schönefeld Airport.
NH Hotel Group has signed a lease agreement for a new hotel in Leipzig, Germany. Work is due to start on the hotel, on Leipziger Burgplatz, at the beginning of 2017 and the property is expected to be ready to accept its first guests at the end of 2018. The 197-room hotel will be in the city's historic centre and will be part of a larger mixed-use building also containing retail space. The Spanish group currently has one other property in operation in Leipzig, the 308-room NH Leipzig Messe.
Mövenpick Hotels & Resorts has opened its third hotel in the Saudi Arabian city of Jeddah and its 11th in the country overall. The 228-room Mövenpick Hotel City Star Jeddah has three restaurants, eight flexible meeting rooms, a large ballroom, a health club and spa and a rooftop swimming pool. The hotel is close to the Al Harthy Exhibition Centre and the Mall of Arabia.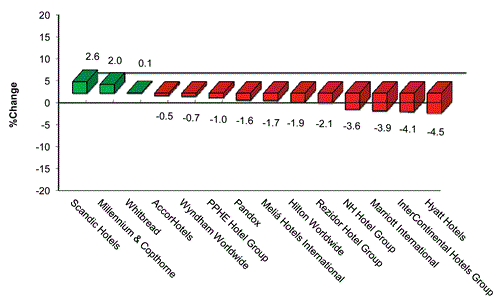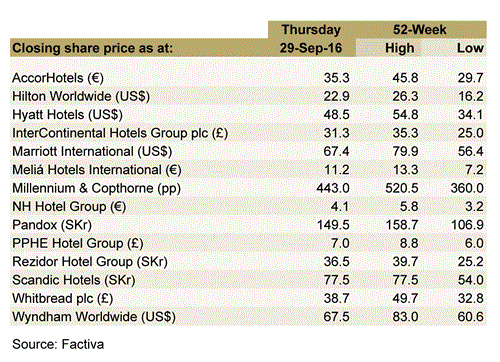 InterContinental Hotels Group – Morgan Stanley downgraded to "overweight" from "equalweight".

AccorHotels – JP Morgan cut the target price from €35.30 to €33.
For the latest in the hospitality industry, please visit: http://www.hvs.com/. You are also welcome to contact the following personnel.
| | |
| --- | --- |
| Russell Kett, Chairman – HVS London (@russellkett) | [email protected] |
| Charles Human, CEO – HVS London/HVS Hodges Ward Elliott | [email protected] |
| Simon Tucker Brown, Managing Director – HVS Executive Search Europe & Middle East | [email protected] |
| Chris Martin, Senior Director – HVS Hodges Ward Elliott | [email protected] |
| Puneet Kanuga, Director – HVS Hodges Ward Elliott | [email protected] |
| Arlett Hoff, Director – HVS London | [email protected] |
| Sophie Perret, Director – HVS London | [email protected] |
| Tim Smith, Managing Partner – HVS Cape Town | [email protected] |
| Demetris Spanos, Managing Director – HVS Athens | [email protected] |
| Hala Matar Choufany, Managing Director – HVS Dubai | [email protected] |
| Ezio Poinelli, Director – HVS Milan | [email protected] |
| Louise Fury, Senior Editor and EMEA Hospitality Newsletter Author – HVS London | [email protected] |
Disclaimer: Information provided above has been gathered from various market sources. HVS has not independently verified the accuracy of the information provided. Interested parties should not rely on the information as statement of facts and are advised to make their own independent checks to verify the information provided. For further information, please feel free to contact HVS London.
Superior Results through Unrivaled Hospitality Intelligence. Everywhere.
Stay current. Click here to receive free HVS newsletters
Looking for insights into the hospitality industry?
Discover unique hospitality intelligence at hvs.com/publications
Interested in a particular market?
Find hundreds of market overviews, all written by HVS experts, at hvs.com/marketresearch
Like to be in the know on hotel trends and predictions?
See our Hotel Valuation Index for dozens of cities at hvi.hvs.com