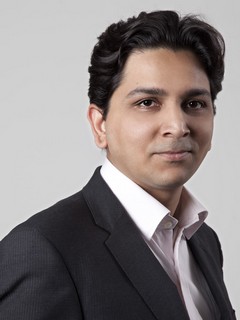 The Indian hospitality industry is poised for tremendous growth. The demand-supply imbalance has prompted several national and international hotel companies to focus their energies towards expansion in India. The next few years will thus witness the opening of several hotels that will span the length and breadth of our nation. While these developments are well overdue and a welcome metamorphosis in the growth pattern of our industry as compared to the last couple of decades, one must also pay heed to the challenges that are meeting us head on.

Most Indian cities offer some of the world's poorest floor spaces indices (FSI). To make matters worse, these FSI norms seem to have frozen with time and the typical practice of raising FSI across most cities of the world somehow does not seem to be mirrored in India. Typically, the progressive increase in FSI has two purposes. First, it allows households as well as businesses to consume more floor space as their incomes increase without having to move to new areas in the suburbs; and second, an increase in FSI contributes to a decrease in the city spatial expansion in the countryside, decreasing population dispersion, transport costs and pollution due to transport. Recent economic research has shown that high business densities are critical in generating synergies among companies. In most cities, planners practically always establish the regulated FSI at a higher level than the FSI of existing buildings. This practice encourages the redevelopment of obsolete structures. These trends are not noticed in India.

Ironically, while FSI norms in India have made it increasingly difficult for developers to construct tall building structures, the one thing that has managed to touch the sky is land valuations. Hotels in India across all major cities are offered extremely low FSI. Land costs are rising exponentially. Put two and two together and we are in a financial quagmire. Our research indicates that last year commercial land auctions in the Wazirpur, Dwarka and Gurgaon areas of the NCR ranged from 60 to 75 crore an acre. Though business has been good and the short to medium term outlook for the industry seems bright; building a hotel on a piece of land that costs up to 60% of the total development expenses is almost like riding a roller coaster with no seatbelts. More and more hotel projects appear financially unfeasible as breakeven projections as well as stabilization forecasts run well beyond the typical ten-year cycle.

Most comparable cities across the world offer far better FSIs than their Indian counterparts. Seoul, for instance, with a population similar to Mumbai, manages in a much more concentrated space by applying higher FSI norms - making it easier and cheaper to create adequate infrastructure. Zoning regulations vary across New York City and while parts of the city offer only 0.5 FSI, the Central Business District of Manhattan has been known to allow anywhere from 15 to 18 FSI for development. Amsterdam offers FSI ranging anywhere from 0.2 to 5.0, while Paris averages 3.0 FSI and Washington D.C. averages 6.0 FSI. Compare this to the dismal 1.75 FSI offered in most areas of the NCR and one begins to get the picture.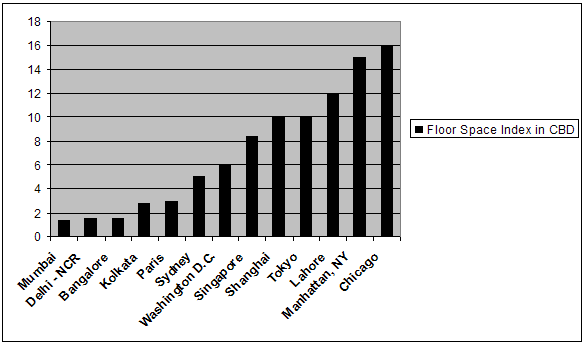 Source: HVS Search
On a brighter note, a few state governments in our country have now initiated a program that allows for the transfer of development rights (TDR). Simply put, the development rights certificate containing additional FSI which is obtained after giving up property voluntarily for a public project can be traded anywhere in the city. Under this, if the owner gives up a portion of his property, instead of the compensation amount, he will get an additional FSI that will be a pre-defined multiple of the surrendered plot. This additional floor area is his TDR granted to him in the form of Development Rights Certificate (DRC). He can use the additional floor area for expansion of his own building or sell it to another developer in need of additional FSI. The selling price of the TDR will be as per the market value of the property. TDR is a succesful concept in several other nations. However, its effectiveness in India is yet to be gauged.

A recent trend of building hotels in conjunction with malls is also being noticed in India. While this assists the developers in offsetting land costs by constructing the hotel on top of the mall and thus building a mixed-use product, it also poses additional challenges. Most malls across India average about 1.6 parking spaces per 1,000 square feet of built up space. The Mall of America in Minnesota, in comparison, has 5.3 parking spaces per 1,000 square feet. The addition of a hotel on top of the mall only leads to a further increase in the demand for dedicated parking spaces. It comes as no surprise that more and more consumers are finding their shopping, and now lodging, experience to be a harrowing one. The nuisance value associated with the parking woes of our nation is often a function of poor planning and limited foresight by the developers of these malls and hotels. One is pressed to ask the question – Why not offer Free FSI to developers as a means of promoting 'above the ground' parking spaces in their buildings? Developers rarely spend the time, money and effort in going any more than one or two levels below ground for parking purposes simply because it is a financial burden to go any deeper. They would likely be willing to build multiple parking levels above the ground if they were allowed to do so free of FSI restrictions. This option is made available by several nations across the globe and has invariably been a successful one. On a different note, plans to build monorails that will connect the malls to metro stations across the NCR, for instance, might bring some respite to the parking paradox. However, the fruition of such projects remains to be seen.

Infrastructure development has a crucial role to play if India is to sustain its high growth. Poor infrastructure, including power shortages, bad roads, inadequate water and sanitation, and unreliable communications are a few of the examples that display the abysmal state of affairs. Infrastructure in India has always been its bane. The country's ability to deliver a regular water supply is often tested, and water tankers regularly ship in water when the taps run dry. Power cuts in most metropolitan cities of India are a daily occurrence. The hotel industry is also posed with these hurdles on an ongoing basis. India's infrastructural woes have a direct impact on the growth of both leisure as well as commercial travel to the country. While overall hotel occupancies have seen a healthy growth curve in the last few years, it is primarily a function of the lack of quality accommodation in India at this time. Infrastructural challenges are certainly a deterrent to the kind of growth a country with an economy such as ours can expect to witness.

Urban development experts believe that offering higher FSI should only come about as a subsequent development after the overall infrastructure in the country has been upgraded. However, India's real estate developers are unanimous in their opinion that the FSI norms need to be eased if we are serious about the contemporary organic growth of our nation's existing as well as proposed structures. To further add to the discussion, environmental experts are keen to see continued restraints to FSI offered in heritage zones. Lower FSI means curbing vertical growth, which is environmentally sensible but might be strategically unviable. Instead of making higher FSI a bone of contention, they would be better served in raising their brows about the utter absence of the promised green belts all along the highways in NCR and Mumbai. Land auctions and sales for commercial development are rampant. However, FSIs offered are abysmal and the construction of wide, multi-laned roads is painfully sluggish. No wonder office goers to recently constructed commercial complexes in towns such as Gurgaon end up wasting valuable time, money and fuel while they sit twiddling their thumbs at bottlenecks along the access roads and highways in the NCR. A practical solution to this Catch 22 situation would be one that involves simultaneously sprucing up efforts towards continued and sustainable urban infrastructure development on the one hand and offering healthier FSI to the real estate developers on the other.

India's revolving-door democracy that is often built on shaky foundations is an additional element that contributes towards the uncertainties regarding the future of our country's overall development. Although several multinationals with magnanimous FDIs are flocking to India and the laws of demand and supply make a strong argument in favor of continued growth, they fail to account for the murky effects of our nation's politics.

So while the hospitality industry is poised for tremendous growth, it clearly faces a few big roadblocks along the way. Inflexible FSI norms, high land costs, inadequate parking spaces, relatively poor urban infrastructural planning and political inadequacies are just some of the challenges that confront our industry in the near future.