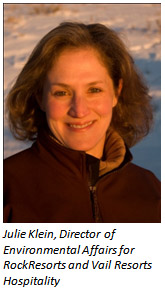 Vail Resorts, Inc. (NYSE:MTN) is known among outdoors enthusiasts as the operator of some of the finest mountain resort areas in the United States, including Vail, Beaver Creek, Breckenridge, and Keystone in Colorado, and the Heavenly Ski Resort in Lake Tahoe on the California and Nevada border. But resort-goers should also be aware of Vail's strong commitment to environmental sustainability. The company acts as steward of some 3,800 lodging units and approximately 17,000 acres of land. Vail Resorts, Inc. also owns and operates an international collection of hotel properties, including the flagship brand RockResorts. Other business interests include Colorado Mountain Express, six golf courses, and a significant portion of Specialty Sports Venture, with more than 100 retail outlets. Considering the vastness of this enterprise, implementing a cohesive sustainability strategy might seem more daunting than careening down a double-black-diamond slope.
I recently met with Julie Klein, Director of Environmental Affairs for RockResorts and Vail Resorts Hospitality, who plays a leading role in helping Vail set and achieve aggressive sustainability goals. Here are a few highlights of our conversation.
John Scaggs: Vail has continually managed to advance the core values of a sustainability-oriented operational strategy, despite the challenges involved. How have you made your sustainability vision shine brighter each year?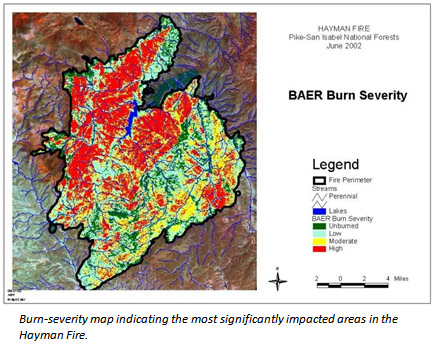 Julie Klein: In implementing our sustainability mission, we're fortunate to have two very valuable assets that help us overcome the challenges, namely our human capital, and the fact that our businesses are so closely tied to the health and wellness of our local ecosystems. Having a CEO like Robert Katz who truly embraces sustainability has been a major factor in the success we've been able to achieve. Everyone in our organization, from Katz to each and every employee, understands that economic, social, and environmental issues are core concerns for our business. We've worked hard to create and maintain a strong framework on which to weigh how all our initiatives, environmentally focused or otherwise, could impact our shareholders, guests, employees, and the communities and ecosystems in which we operate. Another key driver of our environmental performance is the fact that our businesses depend on the thriving natural environments in which they are set. Similar to how operators of oceanfront resorts have a vested interest in the health of oceans and beaches, Vail has a vested interest in the welfare of the natural resources in the mountains.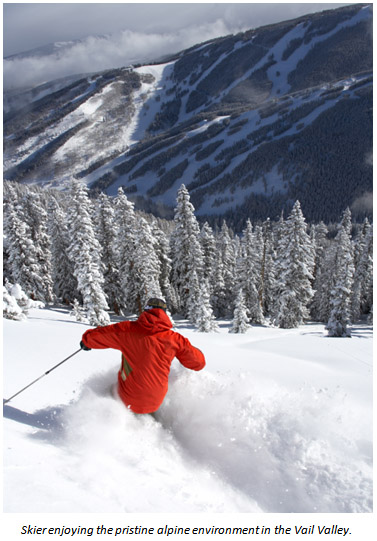 Scaggs: The Hayman Fire, which occurred in June of 2002, was the worst fire in Colorado history, burning nearly 140,000 acres across four counties and causing roughly $40 million in damage. There's been a lot of buzz locally about Vail's decision to partner with the National Forest Foundation and the U.S. Forest Service to help with the restoration efforts following the fire. What were some of the factors that led to the decision to participate in this program?

Klein: Very few companies are able to make direct investments in sustainability-oriented, on-the-ground, innovative projects that will have a profound impact on an entire ecosystem. We ran this initiative through our internal decision framework, realized that it checked all the boxes, and began to move forward. The restoration program will have a profound impact one of Colorado's most critical ecosystems as well as the quality of life for millions of Colorado residents. Our efforts will be focused on the 45,000 acres that were most severely impacted by the fire. These areas include four major watersheds - West Creek, Manitou Park, Lower Trout, and Four Mile - that feed into the Upper South Platte River, the main water supply for metro Denver. Participation in the Hayman Restoration Partnership is consistent with Vail's overarching values because it helps to promote the vitality of natural habitats for local flora and fauna, reduces erosion to protect water quality for millions of Colorado residents, and provides a significant number of jobs for Colorado youth, which in turn helps to stimulate the local economy.
Scaggs: Shifting gears to the logistics associated with the food and beverage outlets that Vail operates, what is your experience in dealing with vendors when it comes to sustainable goods and services?
Klein: As with every other major operational decision, we carefully evaluate whether or not the products offered by food and beverage vendors align with our core sustainability mission by meeting our strict environmental, financial, and social criteria. To give you some perspective in terms of scale: last season we served roughly 2.5 million lunches. Recognizing the potential to influence a supply chain of this magnitude motivated us to establish Appetite for Life, our sustainable cuisine program. This effort empowers us to work with vendors to rethink the way they do business in terms of the triple bottom-line of "people, planet, profit." Many innovations have resulted from us challenging vendors to offer sustainable products that have then been implemented throughout their businesses, and this positively impacts all of their other customers. It's incredible to consider the indirect impact that our values have on consumers and communities all around the U.S. as a result of vendors innovating to be part of our supply chain.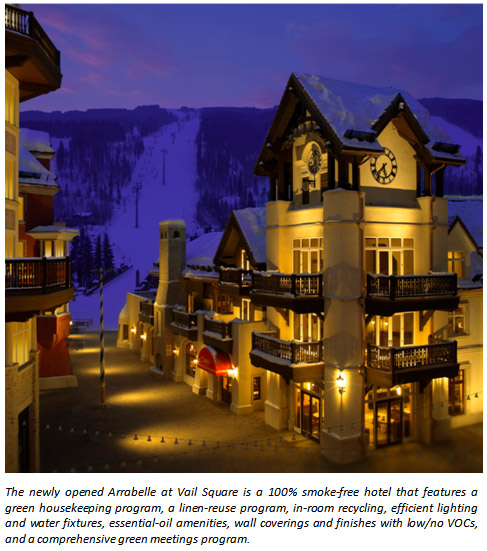 To find out more about Vail Resorts' sustainability initiatives please visit:
www.vailresorts.com/corp/info/environment.aspx
For more information on the Hayman Restoration Partnership visit:
http://sites.google.com/site/treasuredlandscapes

HVS Eco Services provides the tools and expertise to help hotel operators cut costs and go green.
Learn more at :
www.hvs.com/Services/EcoServices/.