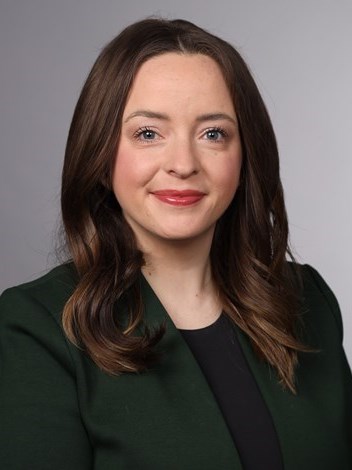 Bend is located approximately 100 miles southeast of Portland, Oregon, situated along the Deschutes River. The city is a top leisure destination, known for its scenic setting near the Cascade Mountain Range and its year-round recreational opportunities. At an elevation of 3,625 feet, Bend enjoys the predominately dry climate of the Great Basin, characterized by sunny days, cool nights, and low humidity. In 2017, the United States Census Bureau reported that the Bend-Redmond Metropolitan Statistical Area (MSA) was among the fifteen fastest-growing metro areas in the nation. In addition to tourism, the local economy is largely supported by the healthcare sector, manufacturing industry, outdoor apparel industry, bioscience sector, software and high-tech sector, and craft-brewing industry.
The following HVS Market Pulse article details recent events in the Bend economy and the dynamics of supply, demand, and performance for the city's hotels.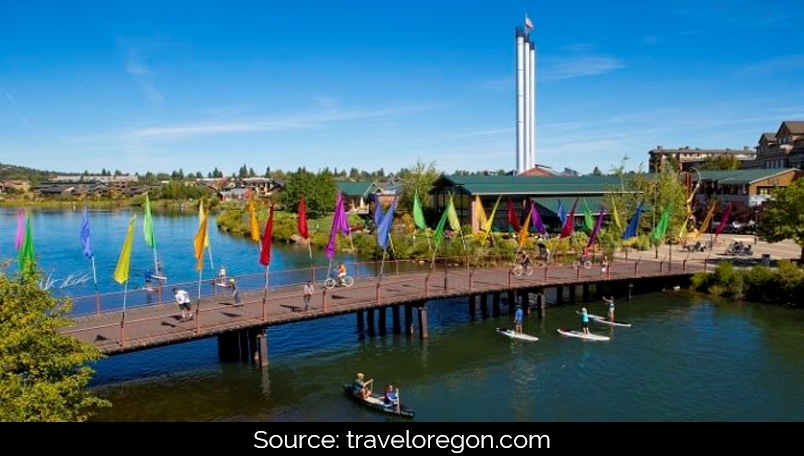 Economic Overview
The economic base is relatively diverse in this market, with strong employers in the healthcare, education, and high-tech sectors, but tourism continues to be the most significant economic driver in Central Oregon. In 2017, the tourism industry in Oregon, driven by the year-round recreational opportunities, employed more than 112,000 people statewide and brought in $903 million in visitor spending in Central Oregon. Central Oregon is one of the top five visitor destinations in Oregon, ranked by visitor dollars spent, and Deschutes County realized larger increases year-over-year than any other county in Oregon. In the healthcare sector, St. Charles Health System is the largest employer in Central Oregon, with over 4,100 active medical staff members and facilities in Bend, Redmond, Prineville, and Madras. Oregon State University (OSU) Cascades opened in 2016 and announced plans for expansions in 2017. Bend is also home to a variety of industries; however, the average firm only has about eight employees. Key sectors in the market that are experiencing growth include bioscience, aviation and aerospace, high technology, and specialty manufacturing. Leading the high-tech sector are many small startup companies. The following table illustrates the top major employers in Central Oregon, which includes Bend.
Top Private Major Employers – Central Oregon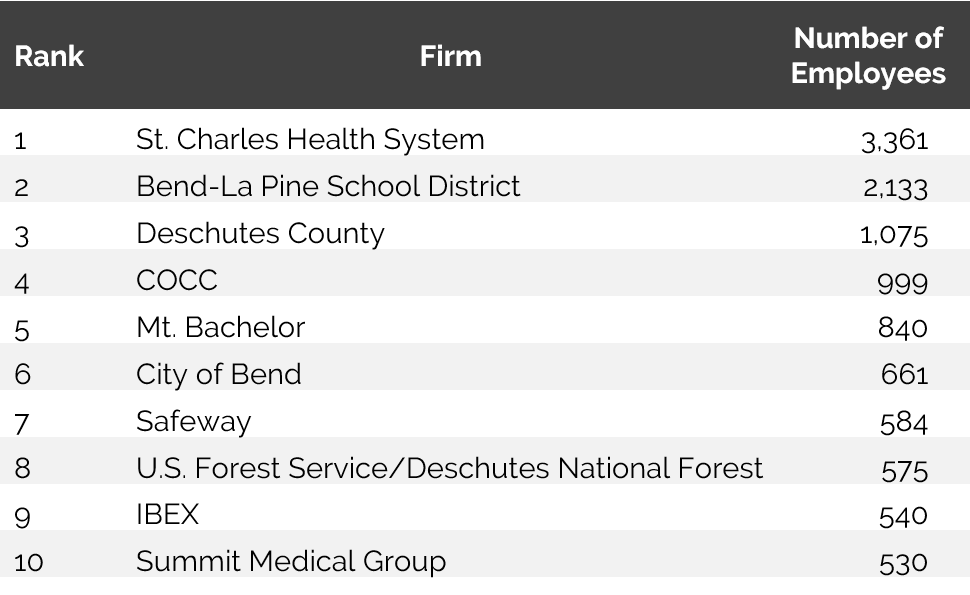 Source: Economic Development for Central Oregon, 2018
Growth & Expansion
Population
Bend is not only a top destination for tourism but is also popular for individual relocations, as the market has experienced an influx of population growth over the recent years. In May 2018, a new estimate from the U.S. Census Bureau shows Bend's population increased 4.3 percent between July 1, 2016, and July 1, 2017, with 94,520 people now calling it home.
[1]
By 2025, the city is projected to have a population of nearly 110,000 people. With an influx of population growth, expansion of the city's infrastructure and resources has been a top priority. In November 2016, the city's Urban Growth Boundary (UGB) expansion plan was approved. The UGB will add 2,380 acres and provide a 20-year supply of land for future growth. It identifies 19 areas of focus and has divided them into opportunity areas and expansions areas. Since approval, the City of Bend and Deschutes County adopted a new Joint Management Agreement in June 2017 to establish clear responsibilities. Moreover, Bend also adopted a new development code to regulate development within the new area.
Urban Growth Boundary Expansion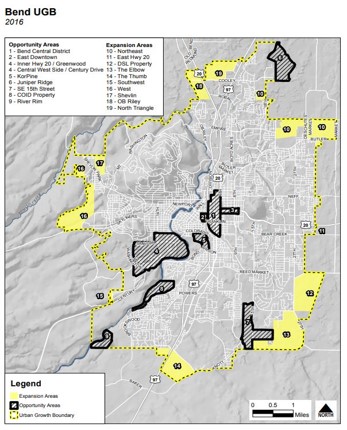 Source: City of Bend
Oregon State University (OSU) Cascade
As population counts soar and Bend becomes a home to more and more start-up businesses, growth in higher education is complementary. In 2016, Oregon State University (OSU) Cascades, Central Oregon's first four-year university, opened. The campus, located near Downtown Bend and the Graduate Research Center, features classrooms, administrative offices, and student housing on a ten-acre campus. With approximately 1,200 students, the campus has already reached full capacity. In November 2017, OSU Cascades announced a master plan for its campus expansion, which included the purchase of 46 acres of adjoining property to the existing campus, as well as a 72-acre former demolition landfill. By 2025, the university's total footprint will cover 128 acres and enrollment is expected to reach between 3,000 and 5,000 students. In June 2018, Bend City Council approved the master plan for the campus, and sitework has since begun. The first building to be constructed will be the $39-million STEAM (science, technology, engineering, arts, and mathematics) building, which has been funded and will break ground in 2019.
St. Charles Health System
Not only the largest employer in the county, St. Charles Health System employs over 3,000 people in the city of Bend alone. In response to a growing population and increasing demand, St. Charles Bend is adding a new patient tower, the third addition to the hospital in the last twelve years. The project is estimated to have a total cost of $65 million and will include a new patient tower, a 500-stall parking lot, and a water line. The three-story tower will be located north of the existing Intensive Care Unit and will feature impatient and emergency psychiatric services, as well as space for additional critical-care beds. Construction, which began in April 2018, is expected to be completed in the spring of 2019.
Transportation
Bend has historically been a drive-to destination; however, ongoing popularity of Bend as a travel destination and the individual and company relocations to the area have contributed to an increase in passenger traffic at the Redmond Municipal Airport, also known as Roberts Field. It is the fourth-largest commercial-service airport in Oregon, serving the Central Oregon region. Airport officials are in the process of developing a 20-year master plan, which is anticipated to include runway and terminal expansions in response to increased flight service and growing passenger traffic. In 2018, the airport received a $5.2-million grant for the anticipated expansion. In the meantime, additional nonstop flight service and the usage of larger planes should continue to support high passenger counts. According to airport director Jerry Brienza, he is confident that the airport will reach the million-passenger threshold in 2018.
Passenger Traffic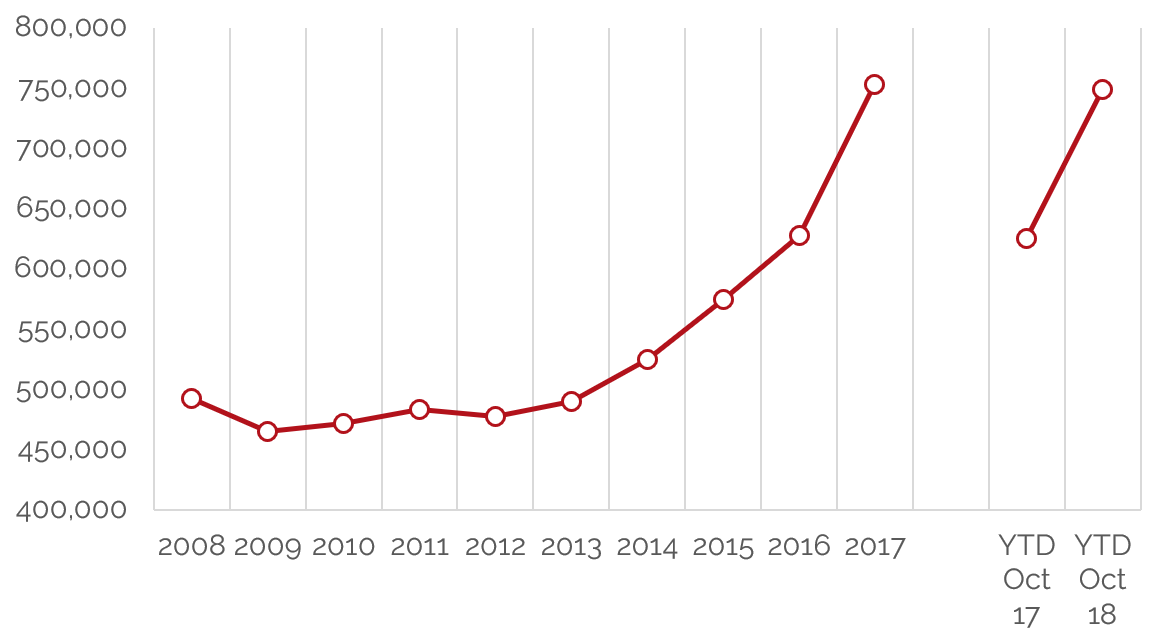 Source: Roberts Field Redmond Municipal Airport
Tourism
Deschutes County Fair & Expo Center
Although Bend does not feature a convention/event center, The Deschutes County Fair & Expo Center, which occupies a 132-acre site in Redmond, is placed strategically at the hub of the Tri-County area (Deschutes, Jefferson, and Crook Counties). The Expo Center hosts the largest annual county fair in Oregon and some of the largest conventions and events. Facilities include the First Interstate Bank Center, a 239,000-square-foot multi-purpose arena; the Three Sisters Conference Center, which includes approximately 34,000 square feet of convention space in its three separate facilities; the High Desert Activity Center; the Equestrian and Livestock Complex, comprising five separate barns; and two outdoor arenas.
Both the number of events and attendance levels have increased since the 2012/13 fiscal year. According to management at the Expo Center, Deschutes County increased the collection of transient lodging tax by 1% in fiscal 2013/14, and 70% of the increased tax revenues are being used as marketing funds for the Expo Center, which has heightened the visibility of the facility on a national level. Management indicated that the booking pace for fiscal years 2018/19 through 2019/20 remains strong. Most recently, in August 2018, Deschutes County received approval to acquire 140 acres of property to expand the Deschutes County Fair & Expo Center. Development plans have not been released to the public; however, the expansion should bode well for the market.
Number of Events and Attendance Continue to Increase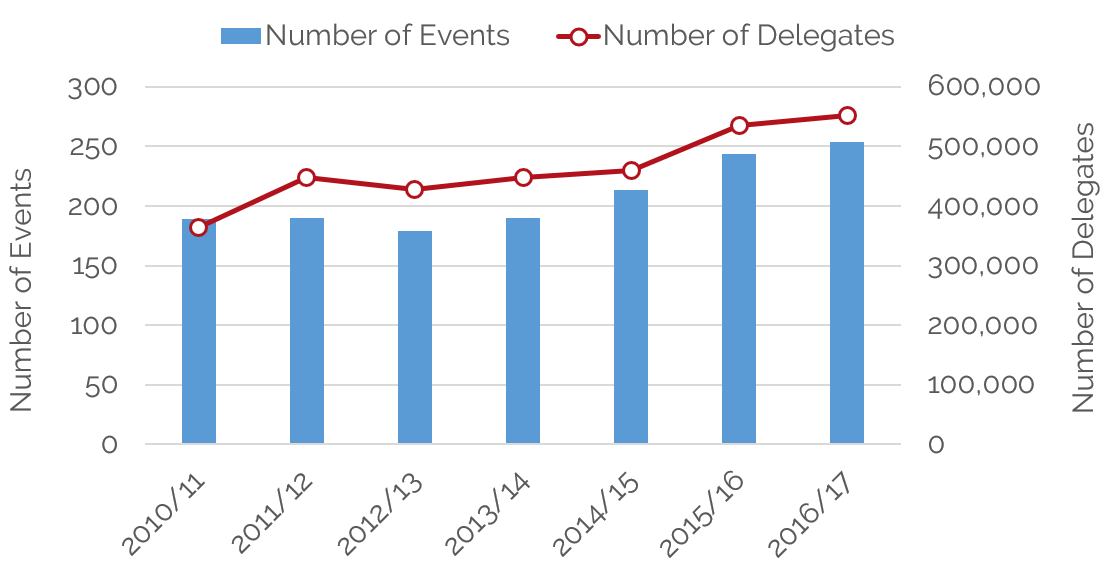 Source: Deschutes County Fair and Expo Center
Hotel Supply
The Bend market is replete with economy and upper-midscale, limited-service hotels, while the greater area offers a variety of resort and vacation rental options. The market is underserved by select-service and full-service hotels that include additional amenities, such as food and beverage. Existing guestroom supply in Bend consist of the following chain-scale percentages: 4% Luxury, 15% Upper Upscale, 17% Upscale, 30% Upper Midscale, 9% Midscale, and 25% Economy.
Economy and Upper-Midscale Hotels Dominate the Bend Market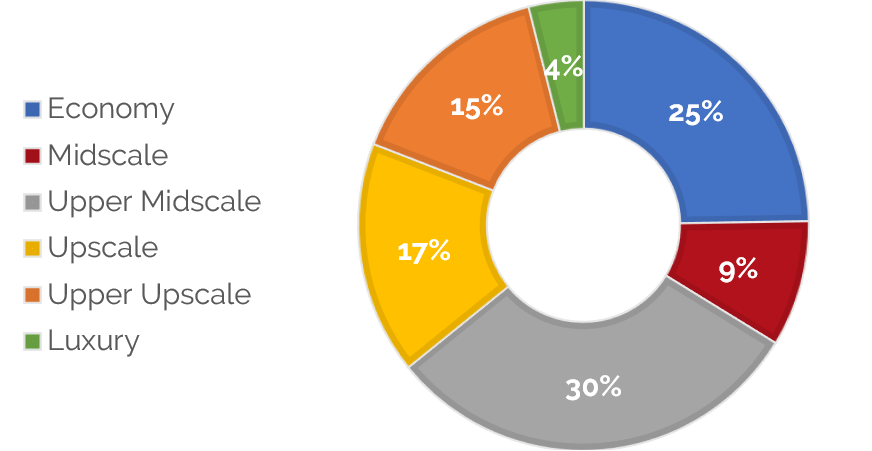 Source: STR
Since 2010, eight hotels totaling over 600 guestrooms (encompassing a variety of product classes) have opened in the market, and another two hotels are currently under construction and slated to open in 2019. Two other hotels are proposed for development; however, the necessary entitlements have yet to be secured. The following table illustrates new and proposed hotel supply in the Bend market.
Market New Supply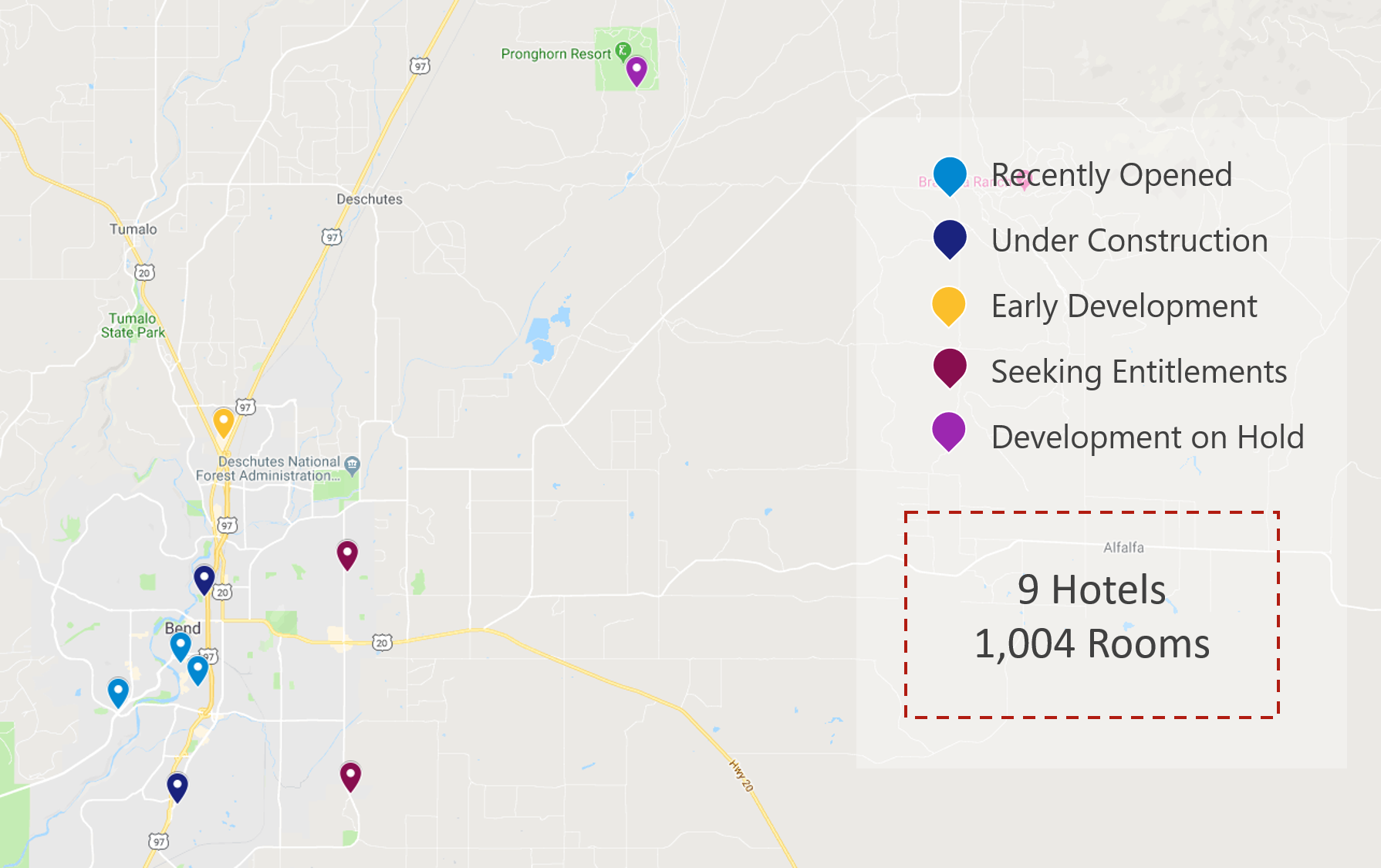 Source: STR, HVS

Despite the ongoing influx of new supply, hotel performance metrics remain healthy during the peak travel season. According to STR, the market achieved occupancy levels at or above 80% from June through September 2018. During that period, average rates were above $150 from June through August, and averaged approximately $130 in September. July was the only month to experience a decline both in occupancy and demand in the 2018 summer season, largely attributed to local wildfires, which greatly affected travel to the region, as well as the opening of the Best Western Premier. Following the effects of wildfires and entrance of new supply, the City of Bend reported significant growth in transient room tax collections in both September and October. While hoteliers are cautious about the entrance of new supply in the market, the ongoing growth of Bend and Deschutes County should bode well for the lodging industry.
Challenges and Opportunities
With its temperate climate and high quality of life, Bend has experienced a steady influx of new companies and residents. Meanwhile, home prices continue to rise. According to the
Bend Bulletin
, the median home price in Bend reached $449,000 in June 2018, almost 10% higher than the amount in June 2017.
[2]
While Bend residents face issues like housing shortages, developers also face challenges such as labor shortages, land availability, and rising construction costs. Some of these issues should subside in the next five to ten years, aided by the aforementioned UGB plan and zoning changes within the city. Nonetheless, the City of Bend continues to explore ways to support growth of local businesses and wellness of residents. Nearby cities, such as Redmond and Pineville, have also experienced steady population growth with their affordability and proximity to area employers.
The Outlook
Bend's popularity as a tourist destination and as a relocation hot spot continue to drive growth. As new supply enters the market over the next two years, occupancy is anticipated to soften in the near term; however, given the growing strength of the Bend economy, a quick recovery is expected. Overall, the outlook for Bend is optimistic.
---
[1] https://www.bendbulletin.com/localstate/6263095-151/bend-population-approaching-100000
[2] https://www.ktvz.com/news/bend-median-home-sales-price-hits-record-449-000/764486520
Breanna Smith, MAI, a Senior Vice President with HVS Portland, gained revenue and sales management experience while working for Marriott International. In these roles, she made corporate sales for full-service Marriott-branded hotels across Texas, conducted strategic analyses and daily management of hotel transient guest performance data, and created strategies to maximize hotel revenue. Breanna earned a BSBA in Hospitality Management from the Daniels College of Business at the University of Denver. For more information, contact Breanna at